Inspiration n3
Inspiration Archives
Design daily news
Collection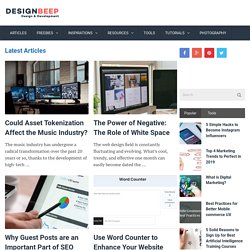 Design Inspiration
Gicons is a set of free icons designed by Guy Morris from Manchester,United Kingdom.GICONS are hand crafted,scalable vector icons for designers and developers. This particular pack comes with 100+ free custom icons in PSD and PNG format.All the icons are... Case is a stylish and elegant theme. Approach both corporate websites, and for photographers, designers, developers, agencies and many others. The theme has two Builder, and the second one its own popular Visual Composer. Now you can easily create any...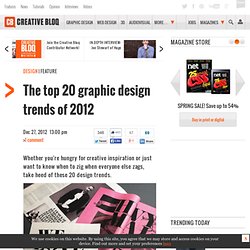 Graphic Design Trends
For many designers, the word 'trend' has a negative connotation, tarred with images of blind imitation of whatever's hot at any given time, rather than genuine innovation and independent creative thought. Don't forget to read about the latest features in Photoshop CS6! So rather than serving you up seasonal, flash-in-the-pan trends that you'd frankly be a fool to follow, here we've provided an essential overview of 20 longer-lasting styles and movements that have genuine impact on creative professionals. Notable in 2012 is the trend for pared-back minimalism, which cuts through the noise with considered use of white space, clean type, bold, simple shapes and limited colour palettes, rather than ladling on special treatments and effects – and we've covered several applications of this here. Likewise, the current consumer desire for authentic, unique products that give a sense of heritage rather than bland mass-production manifests itself in several smaller ways too.
Design You Trust. World's Most Famous Social Inspiration.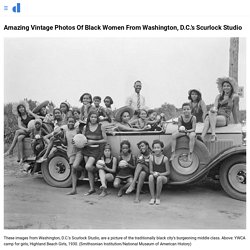 If you think Star Wars was fiction, then think again, because the characters are alive, right under our nose. This is exactly what Zahir Batin portraits in this photo series, he used his Star Wars figures and placed them in nature or recreated backgrounds to seem as if they have a life of their own. Continue reading "Minature Star Wars Adventures" » It's been just over a month since KTM took an outstanding 1-2 finish in the notorious Dakar rally and the Austrian manufacturer is excited to announce that the all-new KTM 450 Rally Replica machine will be available very soon for customers to purchase.
My Modern Metropolis
CreativeFan - Inspiration, Resources and Tutorials for Creative Professionals
The Dieline -
With a hands on approach Ziesche Modern Apothecary is an exceptional bath and body products by Sherri Ziesche and designed by Noise 13. Click to read more Hovard recently launched Hudson Made Scullery Soap. A locally harvested soap made from all natural ingredients. The design reflects utilitarian and simplicity with a modern twist.
DIY Doily Lamp
Ad-free print and graphic design inspiration. Business card, flyer, poster, logo and package designs. | Stationery STYLE
DESIGN A EMPORTER - Timba Smits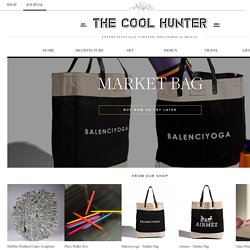 Welcome
More than 400 invited guests attended the opening event of The Art Hunter in Sydney on Tuesday night. The Art Hunter launch is a collaboration between The Cool Hunter and Jaguar, and the opening night was also the Australian debut of the spectacular Jaguar C-X17 concept car. To present The Art Hunter, we engaged our dream team of collaborators, led by the incomparable Natalie Longeon and Peter Pengly from The Artistry (they designed and executed our Summer Lovers Rotate store as well), to transform a 500 m2 warehouse in Alexandria into a genuinely exciting, temporary three-week art exhibition experience. The Art Hunter is not a white-walled space where you quietly walk past pieces of art. Instead, it is an eclectic and vibrant environment where every wall is a different color (by our paint sponsor Taubmans), where there is no natural light and where the work of more than 40 artists, curated by us, is not only on display but also for sale.
everybodySHOUT | shout | Evolved creative collaboration to make ideas happen.
REWARD: see brief DEADLINE: 01 DEC 13 PROJECT: For the glory brief - show the world the way YOU create SEE BRIEF REWARD: $2400 DEADLINE: 29 AUG 13 PROJECT: Create an identity that changes the world of architecture for women. VIEW WINNERS REWARD: SEE BRIEF DEADLINE: SEE BRIEF PROJECT: This secret project is part of Shout Labs. For more info read our blog.
Curiocity - Toutes les curiosités créatives.
I am going to confess right now. I am a little obsessed with typography this week. And there's been plenty happening in the world of type, making it the theme of this week in design. Every week, we plan to a look at major product releases and upgrades, tools and tricks and even some of the most popular things you are talking about on social media. And we'd love to hear what's going on in your world as well.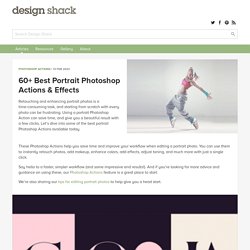 Design Gallery, Deals, Tutorials & Community | Design Shack
Think Design | Graphic Design Freebies, Resources, and Inspiration.
Creattica
The Import / Design Inspiration / Design Blog
Paper and tea 21st January, 2013 Our first entry to TheImport gallery in 2013 is stylish Paper & Tea website. It has a strong character and plenty of tea. Well, as Paper & Tea people say – life is to short to drink bad tea. Sculptor and photographer from SLC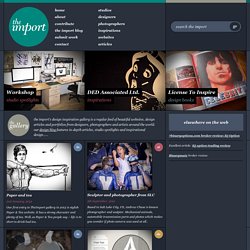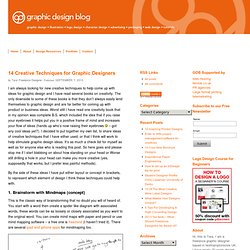 I am always looking for new creative techniques to help come up with ideas for graphic design and I have read several books on creativity. The only downside to some of these books is that they don't always easily lend themselves to graphic design and are far better for coming up with product or business ideas. Worst still I have read one creativity book that in my opinion was complete B.S. which included the idea that if you raise your eyebrows it helps put you in a positive frame of mind and increases your flow of ideas (hands up who's now raising their eyebrows – got any cool ideas yet?). I decided to put together my own list, to share ideas of creative techniques that I have either used, or that I think will work to help stimulate graphic design ideas. It's as much a check list for myself as well as for anyone else who is reading this post.
Creative Techniques for Graphic Designers
SeptemberIndustry - The best in international graphic design and everything in between every week.
Illusion 360 - The World's most amazing Art, Design, Technology and Video
Get the FlatPix UI Kit for only $7 - Learn More or Buy Now We have something a little different for you today. Our friends over at iStock reached out to us to let us know about a promotion they are running and gave us these promo codes to share with our readers for additional savings off any credit pack… Read More If you still have any doubts about how important it is for you to adopt a responsive layout, it is time for you to stop wondering.
Inspiredology - Design inspiration lab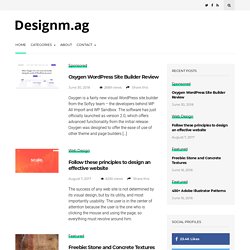 Curiocity - Toutes les curiosités créatives.
Reform & Revolution / R²
Published Graphic Design, Photography, Digital Art and Web Design Inspiration | DesignersCouch
Adobe Illustrator Group News
As part of their design of a new 'experience space' in Shanghai for whisky brand Johnnie Walker, creative agency LOVE created a series of commemorative edition bottles, referencing the Chinese decorative style of blue and white porcelain... In LOVE's first project for Diageo Asia, the Manchester-based agency worked with interior designers, Asylum, on the look of the Johnnie Walker House which is set to open in Shanghai. The four story house will be used to market Scottish whisky to Chinese consumers and tell the story of the brand's history through interactive installation made from materials used in the whisky-making process. Other features of the House include a copper sculpture of the distillery process (below); various illustrations by the TOY agency made in the material; typography etched into oak floors; and even a "peat wall art feature", no less.
For those who love whisky