Designers
Paul Currah | Freelance Graphic + Digital Designer
Margarida Maltinha
Jonathan Zawada
Janelle Flores Designs
Jirka
Print
Steve Fraschini
Danny Blackman // est. 1985
Led by Chris (formerly of Chris Heighton Design) and Simon (Interaxsys), we combine over 20 years of design and technical experience for both digital and print media. A partnership of two mindsets and two disciplines we are fantastically creative and technically innovative. Portfolio of Graphic Design studio Chris Heighton Design
Siminki - Designer and front end web developer based in Manchester
simon villet
Dale Harris - Creative Branding & Graphic Design Bendigo Victoria Australia
Adam Woodhouse | Portfolio 2009 » 2008 Graphic Design Portfolio
Designbum: Living Today's Tomorrows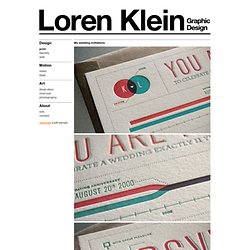 Loren Klein - Graphic Design Portfolio - Print
Almonds Packaging Picower Center A group at MIT that is devoted to research on the brain Convergence International Arts Festival Poster 24" x 35"