Wristlets
Wristlet camera strap tutorial. I think my lowly little point and shoot camera feels left out sometimes.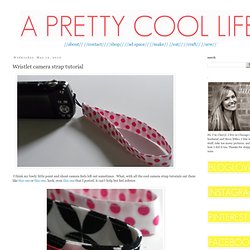 What, with all the cool camera strap tutorials out there like this one or this one, heck, even this one that I posted, it can't help but feel inferior. Well, here's a way to keep up with the cool bloggers and their dressed up SLR strap covers. You'll need: Wristlet tutorial. This is the first sewing tutorial I've ever written.
I almost gave up several times! About the author: Joy is a work at home database programming Mom (with a capital M of course), of a 6 year old daughter. She hadn't sewn for over 20 years and doesn't know how she did without it – she blogs at 100 spools of thread Supplies: Outside Fabric good quality cotton fabric: 1 piece 9″x12″, 1 piece 9″x18″, 1 piece 7″x8 1/2″, 1 piece 2″x14″, 1 piece 3/4″x5″ Lining (cotton broadcloth) – 1 piece 9″x12″ Interfacing (Fusible Fleece) 1 piece 9″x12″ and 1 piece 7″x4 1/4″ 1 Button (here used 9/16″ mother of pearl with a metal shank)
Mini Zippered Bag Tutorial. I started working on this little bag because we have quite a bit of travel planned for this summer, and I've found that when we travel I use way too many disposable zipper bags for miscellaneous things, like markers, toys, legos, snacks, etc.
This little reusable bag will be perfect to fill with those little things and throw in the kids' backpacks that I made a few weeks ago. (It would also be a great little cosmetic bag.) The finished size of this bag is approximately 9″ X 5 1/2″, not including the handle. Edna the Owl Bag. Howdee pards!!!!!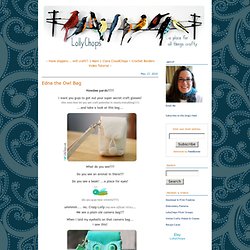 I want you guys to get out your super secret craft glasses! (the ones that let you see craft potential in nearly everything!!!!)... And take a look at this bag... What do you see???? Embroidery Week: Wristlet. We debuted this fun wristlet project just last week on Sew4Home, and knew it would look cuter still with a dash of embroidery.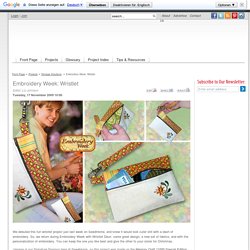 So, we return during Embroidery Week with Wristlet Deux: same great design, a new set of fabrics, and with the personalization of embroidery. You can keep the one you like best and give the other to your sister for Christmas. Janome is our Signature Sponsor here at Sew4Home, so this project was made on the Memory Craft 11000 Special Edition sewing and embroidery machine. Therefore, the embroidery steps below relate specifically to this machine. If you have a different type of embroidery machine, follow your instruction manual to stitch your design. Wristlet. Sometimes you want to travel light – with just the essentials at hand.
For this, you need: . A tiny, tidy tote that hangs from your wrist. It's just 5" x 7", but holds all the necessities with room to spare. Zip up your spending cash, a couple o' credit cards, maybe a bit of makeup and a comb.
---