Women's Accessories
A Tutorial: Fabulous Ric Rac Flowers » Matilda Jane Clothing Rocks. Let me start out with a warning or sorry of some sort.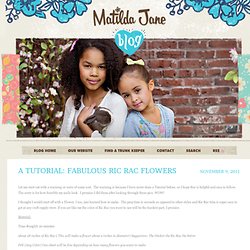 The warning is because I have never done a Tutorial before, so I hope this is helpful and easy to follow. The sorry is for how horrible my nails look. I promise I did them after looking through these pics. WOW! I thought I would start off with a Flower, I too, just learned how to make. Googly Eye Shoes. Scrap-Pieced Belt…(Use Up Those SCRAPS!!) Are you overwhelmed with scraps?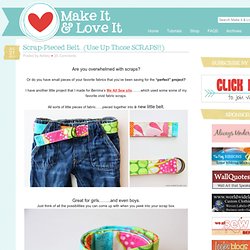 Or do you have small pieces of your favorite fabrics that you've been saving for the "perfect" project? I have another little project that I made for Bernina's We All Sew site……..which used some some of my favorite vivid fabric scraps. All sorts of little pieces of fabric……pieced together into a new little belt. Great for girls……..and even boys. Just think of all the possibilities you can come up with when you peek into your scrap box.
How to Make an Artful Scarf from Scraps. April 30th, 2009 Email 97 users recommend.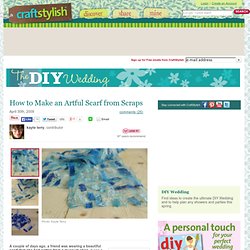 Love forever: New Craft Stylish Post- An Artful Scarf from Scraps. Adorable DIY Ear Warmers.
---