Pot Holders, Oven Mitts, and Hot Pads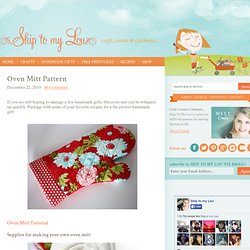 Oven Mitt Pattern
If you are still hoping to manage a few handmade gifts, this oven mitt can be whipped up quickly. Package with some of your favorite recipes for a the perfect handmade gift! Supplies for making your own oven mitt cotton batting 1/4 yard cotton fabric
Wool Felt Leaf Potholders : Daily source of DIY craft projects and inspiration, patterns, how-tos | Craftzine.com
I ♥ hot pads! I have tons of them. In fact, I'm zany enough that when I throw a dinner party, I actually coordinate my hot pads with my table setting.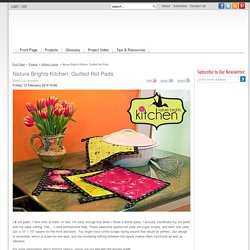 Nature Brights Kitchen: Quilted Hot Pads - Sew4Home
Our Retro hot pads not only feature a nostalgic fabric combo, they also have the perfect retro slip-on style. Our fab designer, Alicia Thommas came up with this original pattern, and we offer it as a free download. The Simply Sweet fabrics on the two mitts are so bright and cheery, it made me want to slip them on and wear them around the kitchen, just waiting for something hot to pull out of the oven. After awhile, when no one showed up with a tray of cookies, I reluctantly took them off. This project is a bit more advanced than many we offer here at Sew4Home, mainly because of all the layers and the mitered bias binding.
Retro Fun: Quilted Mitt Pot Holders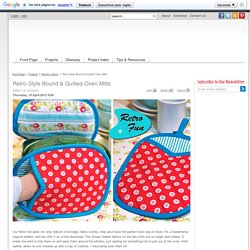 My Backyard Eden: Prettied-Up Pot Holder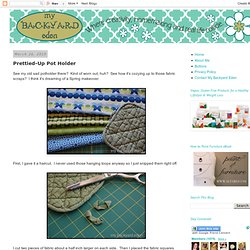 See my old sad potholder there? Kind of worn out, huh? See how it's cozying up to those fabric scraps?
Scrappy Oven Mitts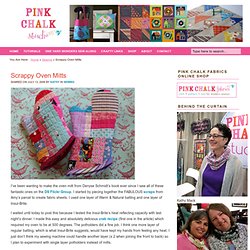 I've been wanting to make the oven mitt from Denyse Schmidt's book ever since I saw all of these fantastic ones on the DS Flickr Group. I started by piecing together the FABULOUS scraps from Amy's parcel to create fabric sheets. I used one layer of Warm & Natural batting and one layer of Insul-Brite. I waited until today to post this because I tested the Insul-Brite's heat reflecting capacity with last night's dinner. I made this easy and absolutely delicious crab recipe (first one in the article) which required my oven to be at 500 degrees. The potholders did a fine job.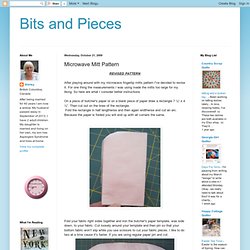 Microwave Mitt Pattern
After playing around with my microwave fingertip mitts pattern I've decided to revise it.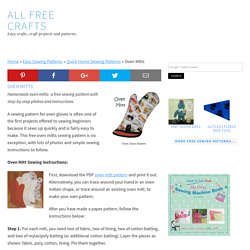 Oven Glove Pattern A sewing pattern for oven gloves is often one of the first projects offered to sewing beginners because it sews up quickly and is fairly easy to make. This free oven mitts sewing pattern is no exception, with step-by-step photos and simple sewing instructions to follow. Oven Mitt Sewing Instructions: First, download the PDF oven mitt pattern and print it out.
How to Sew Oven Mitts
For this project, I usually use 100% woven cotton dishtowels from the dollar store.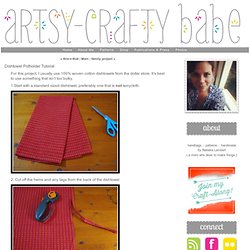 Dishtowel Potholder Tutorial - artsy-crafty babe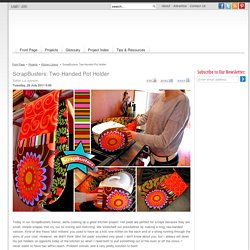 ScrapBusters: Two-Handed Pot Holder
Today in our ScrapBusters Series, we're cooking up a great kitchen project. Hot pads are perfect for scraps because they are small, simple shapes that cry out for mixing and matching. We 'stretched' our possibilities by making a long, two-handed version.
This free oven mitts sewing pattern was inspired by our new KitchenAid range.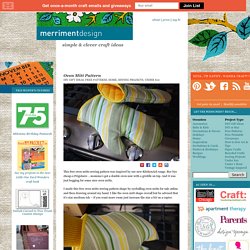 Oven mitt pattern