Children's Clothing
Fleece Mittens Pattern. Needle artists, you know we love you!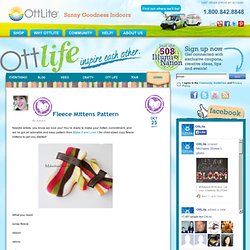 You're ready to make your mitten commitment, and we've got an adorable and easy pattern from Make it and Love it for child-sized cozy fleece mittens to get you started! What you need: scrap fleece ribbon. Countdown to Christmas – Day 11. A Bear"y" Cute Hat Tutorial. The last of hats for my baby: A "beary" cute hat.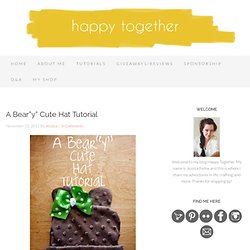 I must say, she's been a good sport for me with more than normal photo shoots last week. That being said, I think she had had enough when it was time for this one. This is the only, the ONLY, pic I could get of her where she wasn't crying or protesting or falling over! Sewing: Couture Skirt (Tutorial for a Time...Pattern Always) There is not much I enjoy more than dressing my girls in something I made for them.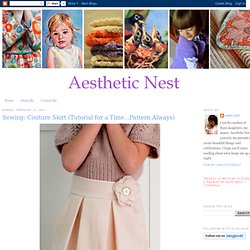 If the something includes some sewing and some knitting (or crochet) it is even more fun. These outfits are of course a rather long time coming so when they are finally worn I feel like singing! And if they fit (my girls aren't really great about trying things on for me midstream) and look at least as cute as I had planned, well then, I really want to take a lot of pictures! The Pharma Blog. Welcome!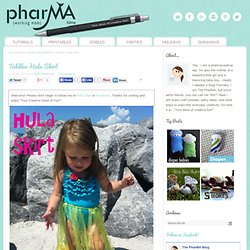 Please don't forget to follow me on RSS feed or Facebook. Thanks for visiting and enjoy "Your Creative Dose of Fun"! Seriously…Who knew a Toddler in a Hula Skirt could be this cute?! New Blog Sponsor: Tie Dye Diva Sewing Patterns and Giveaway. Easy Ruffled T-shirt Scarf. Today was one of those rare, laid-back Sundays.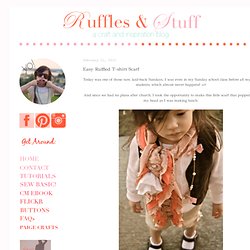 I was even in my Sunday school class before all my little students, which almost never happens! :o) And since we had no plans after church, I took the opportunity to make this little scarf that popped into my head as I was making lunch. I intended to make it for myself, but I didn't have quite enough material from these two old, ill-fitting shirts of mine, so I made one for Paige! It was so easy. Modkid boutique.
Asian-inspired shirt and dress sewing pattern Sizes 2T, 3T, 4T, 5T, 6 and 7 Chic and sophisticated with an Asian-flair, Kyoko will soon become a favorite in your child's wardrobe.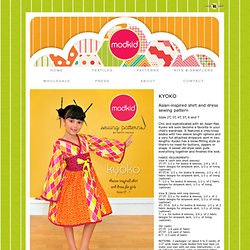 Aquarius Swimmer ~ Swim Diaper Tutorial. Fresh Linens: Fig Tree Threads' Amelia & Me Sun Hat. My husband has freckles, which means my kids have freckles, which means if left out in the sun for any length of time, the whole lot of them looks like a carton of speckled eggs.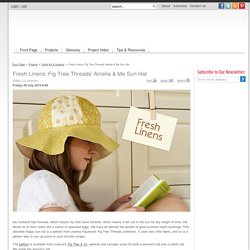 We have all learned the benefit of good summer head coverings! This adorable floppy sun hat is a pattern from Joanna Figureoa's Fig Tree Threads collection. It uses very little fabric, and so is a perfect way to use up some of your favorite scraps. Positively Splendid: Ruffled Easter Egg Tee Tutorial. Having grown up in a home brimming with sewing notions and paintbrushes, Amy has a deep love for all things creative.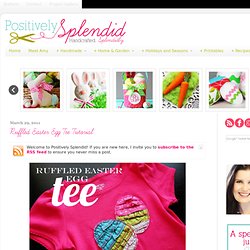 On any given day, you'll find her knee-deep in her latest creative endeavor, with projects ranging from sewing and crafts to home decor and kid-friendly ideas. Amy believes that everyone, regardless of skill level or experience, possesses the ability to create something beautiful, and Positively Splendid was born of her passion for helping others harness their innate creative potential. Tutorial ~Little Girl's Tunic with Tank Top~ A couple of weeks ago, I scored these for $1 each at a thrift store.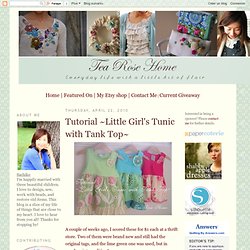 Two of them were brand new and still had the original tags, and the lime green one was used, but in nearly mint condition! I thought that to make a tunic top using a tank top would be so easy and fast; not to mention FUN too! I will show you how I did it. Easy Elastic Waistband for a Little Girls Skirt. I hate elastic waist bands.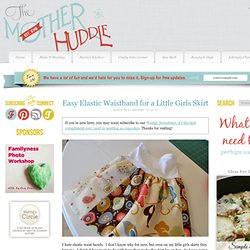 I don't know why for sure, but even on my little girls skirts they bug me. I think it has more to do with how they make the skirt lay on her. So I was going through all my clothes the other day and had a handful of old undershirts that were slightly stained or had lost there shape. Not wanting to throw them out I threw them in with my scrap fabric to come up with something later.
Little Girls Scalloped Skirt size 18 month-2T. Retro Fun: Toddler's Laminated Project Apron. Keep your tots tidy with this adorable project apron. We used the year's hottest new fabric: laminated cotton. Ours is from Heather Bailey's , but everyone who's anyone is adding this fab fabric choice to their new collections. We give you some tips for sewing with it (it's really easy), and a free toddler-sized pattern to download. Whip one up, then whip out the poster paints. Made By Rae: Tutorial by Rae: Dragon Slippers. I thought I'd kick off our month of boy with a tutorial for these extracute dragon slippers. Elliot is really into monsters and dragons lately. When he asks me to tell him a story at night, the usual request is for the kind I make up about "Prince Elliot and his friend Drew the Dragon." Nothing special, just a boy and a dragon and their silly adventures, but he loves it. For awhile I'd even catch him occasionally talking to an imaginary Drew.
How to make a child's chef hat. These chef hats were gifts for a couple of sweet girls. I packaged them with cookie decorating supplies (and hopefully will make them matching aprons in the future). Chef Hat Instructions Supplies: 1 - 18″ circle. Dress a girl around the world - shaped pocket tutorial.
---