What's happening in Croatia?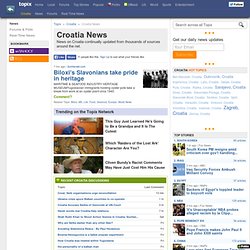 Croatia News
1 hr ago | Mashable iPhone-Friendly WTFJeans Protect You From Water, Radiation Four years after it launched its first iPhone-friendly jeans , Zagreb, Croatia-based startup WTFJeans has "upgraded" its product to version 3.
Croatian Times Online News - English Newspaper
Sunday, 06. April 2014 - 23:04 :: Home Events for April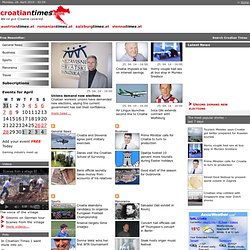 Croatia News - Media Monitoring Service by EIN News
Croatia | Economist - World News, Politics, Economics, Business & Finance
FRIDAY, June 3rd, 2011 March 2011 will be remembered as the month when Croatia was rocked by a wave of anti-government protests that displayed clear anti-capitalist sentiments. The protests were held in almost every larger city every two or three days, and the biggest ones in Zagreb were attended by 10 000 people. Even though they did not accomplish their goal – the overthrow of the government – they might be a sign that the people will no longer accept the ruling class that works against the people's interests.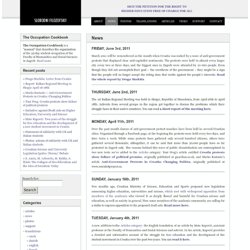 Free Faculty of Humanities and Social Sciences
During the occupation, instead of normal classes, students have organized "alternative classes" which consist of public discussions, lectures, workshops and movie screenings. One of the workshops is the translation workshop , where students translate press releases and other important documents related to the happenings during the occupation. The documents that you will find on the web pages linked bellow were translated mostly by students, not always the same ones, which is why you might find some inconsistencies concerning terminology used to translate some terms or phrases.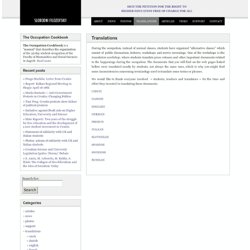 Translations « Free Faculty of Humanities and Social Sciences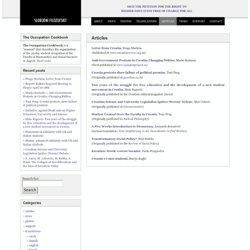 Letter from Croatia , Drago Markiša (Published at www.socialistreview.org.uk ) Anti-Government Protests in Croatia: Changing Politics , Marko Kostanic (First published at www.socialistproject.ca ) Croatia protests show failure of political promise , Toni Prug (Originally published at guardian.co.zk )
Articles « Free Faculty of Humanities and Social Sciences