Occupy colleges
World Socialist Web Site. Occupy Colleges Announces Second Day of Action. Share Last week, a campus walkout in support of Occupy Wall Street, initially called for just New York City high schools and colleges, spread in a matter of days to dozens of schools coast to coast.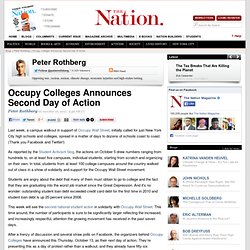 (Thank you Facebook and Twitter!) Occupy Colleges. Easton-ma.patch. A movement that began a few weeks ago on New York's Wall Street as a way to draw attention to what protesters are calling corporate greed and the gap of wealth in the United States has spread quickly to cities across the country, including Boston.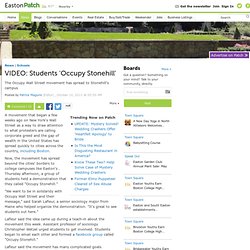 Now, the movement has spread beyond the cities' borders to college campuses like Easton's . Thursday afternoon, a group of students held a demonstration that they called "Occupy Stonehill. " "We want to be in solidaridy with Occupy Wall Street and their message," said Sarah Lafleur, a senior sociology major from Maine who helped organize the demonstration. "It's great to see students out here. " Occupy Colleges Movement Sparks Protests on 150 Campuses - Education.
In one of the most widespread campus protests in recent memory, students at 150 colleges and universities across the country rallied in front of student unions and administration buildings Thursday as part of the Occupy Colleges movement.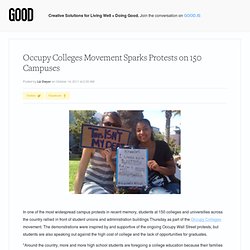 The demonstrations were inspired by and supportive of the ongoing Occupy Wall Street protests, but students are also speaking out against the high cost of college and the lack of opportunities for graduates. "Around the country, more and more high school students are foregoing a college education because their families can no longer afford it," Occupy Colleges organizers wrote on the group's Facebook page. "So many more are graduating with inconceivable amounts of debt and stepping into the worst job market in decades. They take unpaid internships that go nowhere and soon can't pay college loans.
" In response, students at 150 colleges registered on the Occupy Colleges website indicating that protests would take place on their campus. Social media fuels Occupy Colleges movement. Walkouts, sit-ins organized primarily through popular social networking platforms as students join anti-Wall Street protests By Dennis Carter, Assistant Editor Read more by Denny Carter More than 5,000 students participated in walkouts Oct. 5.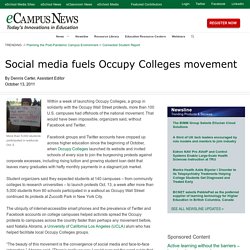 Within a week of launching Occupy Colleges, a group in solidarity with the Occupy Wall Street protests, more than 100 U.S. campuses had offshoots of the national movement. That would have been impossible, organizers said, without Facebook and Twitter. Views: Why Occupy Colleges? At noon Wednesday, thousands of college students from at least 75 colleges walked out of class as part of Occupy Colleges, which is the collegiate version of Occupy Wall Street.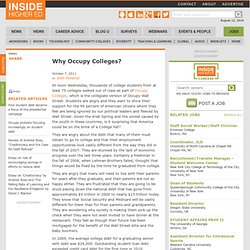 Students are angry and they want to show their support for the 99 percent of American citizens whom they feel are being ignored by our political leaders and fleeced by Wall Street. Given the Arab Spring and the unrest caused by the youth in these countries, is it surprising that America could be on the brink of a College Fall? They are angry about the debt that many of them must obtain to go to college and that their employment opportunities look vastly different from the way they did in the fall of 2007.
They are stunned by the lack of economic progress over the last three years.
---