Whitewater
Main Page - TDMSKP Australian Outdoor Sports Guide
Liquid Logic Kayaks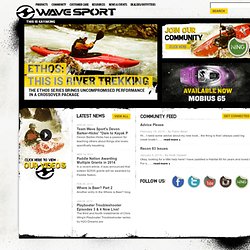 Wave Sport Recon Playboater Troubleshooter - Episode 4 - Wave movement basics Playboater Troubleshooter - Episode 3 - Hole Movement Basics
Wave Sport Kayaks - Wave Sport Kayaks
Evo Sport | MSR, Petzl, Black Diamond, Gear & Equipment for Hiking, Camping, Mountaineering, Kayaking, and more
ATC3K Waterproof Action Cam (ATC3K) :Action Cams: Outdoor: Oregon Scientific
Welcome to the WaveMonkey Paddle Sports and Outdoor Adventure Store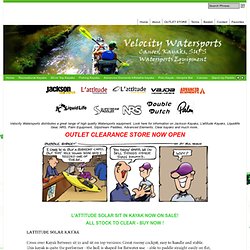 Velocity Watersports distributes a great range of high quality Watersports equipment. Look here for information on Jackson Kayaks, L'attitude Kayaks, Liquidlife Gear, NRS, Palm Equipment, Slipstream Paddles, Advanced Elements, Clear kayaks and much more.. The Big Rig is a single-person SOT designed for incredible stability in a stand-up fishing kayak.
Velocity
NRS - Kayaking Gear, Rafting Supplies and Boating Equipment
Mainpeak Paddle - Australia's Online Adventure Store
Solution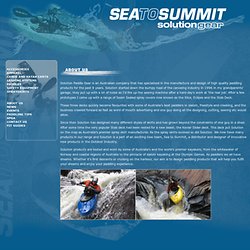 Solution Paddle Gear is an Australian company that has specialized in the manufacture and design of high quality paddling products for the past 9 years. Solution started down the bumpy road of the canoeing industry in 1996 in my grandparents' garage; they put up with a lot of noise as I'd fire up the sewing machine after a hard day's work at 'the real job'. After a few prototypes I came up with a range of Seam Sealed spray covers now known as the Slice, Eclipse and the Stab Deck.
KayakCanberra.com
Australia and NZ Outdoor Adventure Forums - For Sale
Login
River Heights » KayakCanberra.com