WW2
101st Airborne Division. History[edit] World War I and interwar period[edit] In 1921, the division headquarters was reconstituted in the Organized Reserves, and organized on 10 September 1921, at Milwaukee, Wisconsin.[2] It was at this time that the "Screaming Eagle" became associated with the division, as the successor to the traditions of the Wisconsin volunteer regiments of the American Civil War.[3] (See also: Old Abe) As part of the reorganization of the 101st as an airborne division in the Army of the United States, the reserve division was disbanded on 15 August 1942.[2]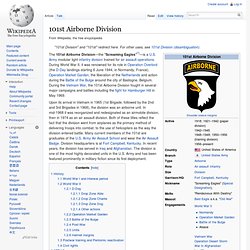 Brécourt Manor Assault. The Brécourt Manor Assault (June 6, 1944) during the U.S. parachute assault of the Normandy Invasion of World War II is often cited as a classic example of small-unit tactics and leadership in overcoming a larger enemy force.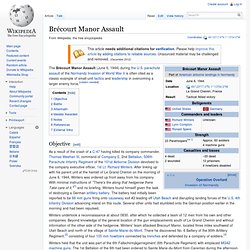 [citation needed] Objective[edit] Winters undertook a reconnaissance at about 0830, after which he collected a team of 12 men from his own and other companies. Beyond knowledge of the general location of the gun emplacements south of Le Grand Chemin and without information of the other side of the hedgerow, Winters' team attacked Brecourt Manor, located three miles southwest of Utah Beach and north of the village of Sainte-Marie-du-Mont.
Operation Market Garden. Operation Market Garden (17–25 September 1944) was an unsuccessful Allied military operation, fought in the Netherlands and Germany in the Second World War.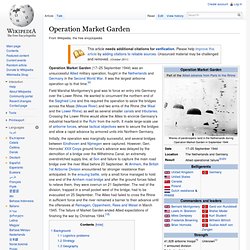 It was the largest airborne operation up to that time. [e] Background[edit] Logistics problems[edit] Ww2_map68. Market-Garden_-_Karte_Plan. Siege of Bastogne. The Siege of Bastogne was an engagement in December 1944 between American and German forces at the Belgian town of Bastogne, as part of the larger Battle of the Bulge.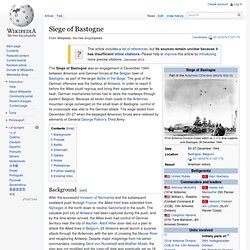 The goal of the German offensive was the harbour at Antwerp. In order to reach it before the Allies could regroup and bring their superior air power to bear, German mechanized forces had to seize the roadways through eastern Belgium. Because all seven main roads in the Ardennes mountain range converged on the small town of Bastogne, control of its crossroads was vital to the German attack. The siege lasted from December 20–27 when the besieged American forces were relieved by elements of General George Patton's Third Army. Background[edit] Bastogne_Map_December_19-23_1944. War Stories. The historic Battle of Bastogne lasted from mid December 1944 to mid January 1945.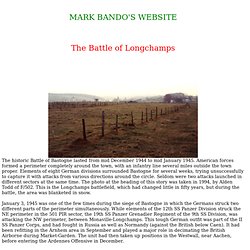 American forces formed a perimeter completely around the town, with an infantry line several miles outside the town proper. Elements of eight German divisions surrounded Bastogne for several weeks, trying unsuccessfully to capture it with attacks from various directions around the circle. Seldom were two attacks launched in different sectors at the same time. The photo at the heading of this story was taken in 1994, by Alden Todd of F/502.
---