WebDev
Knowledgebase Home > Getting Started Knowledgebase Home > Design/Customization > Layout Customization Difficulty Level: Getting Started Tools Needed: Control Panel On BigCommerce, you have the ability to change nearly everything about your template files, including the placement of your side panels on your store. To remove a side panel, such as the Category list, you have two methods: through Design Mode or your Template Files .
How do I remove a side panel on my store?

For more in this series of see Big Commerce vs Shopify or CoreCommerce vs BigCommerce It has taken the best part of 8 months to get this comparison together. BigCommerce and CoreCommerce have both grown in features so quickly and prolifically in the last 12 months, that every time I wrote this comparison I was needing to edit it before I published. BigCommerce and CoreCommerce have almost identical plans at the time of writing, except that CoreCommerce has launched a beginner plan for $20 a month – the cheapest BigCommerce plan is $25/month.
CoreCommerce vs BigCommerce - Andrew Bleakley
Live Chat Support Software Comparison
Description LiveChat is amazingly simple and easy-in-use, it is a powerful live chat software that helps you sell & support !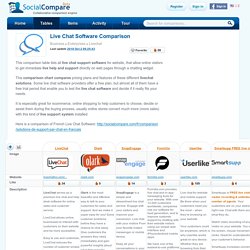 Ease of Setup Simple Javascript embed; easy for those who manage websites already and have any basic HTML/Javascript programming experience as it really is just a copy and paste like most widgets
Olark vs. LiveChat
Comm100 Live Chat - Top 3 Best Live Chat Software for Website
WOW your customers with BigCommerce + Olark | Olark Live Chat Blog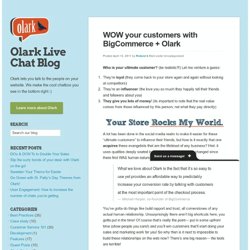 Who is your ultimate customer?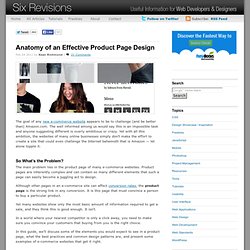 Anatomy of an Effective Product Page Design
The goal of any new e-commerce website appears to be to challenge (and be better than) Amazon.com.
Compare Live Chat Plans | Compare LiveChat Plans | LiveChat
Integrations | LiveChat | Live Chat Software | Live Support | Live Help
BigCommerce | E-Commerce | Integrations | LiveChat | Live Chat Software | Live Support | Live Help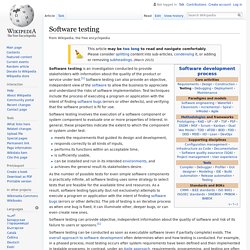 Software testing is an investigation conducted to provide stakeholders with information about the quality of the product or service under test. [ 1 ] Software testing can also provide an objective, independent view of the software to allow the business to appreciate and understand the risks of software implementation.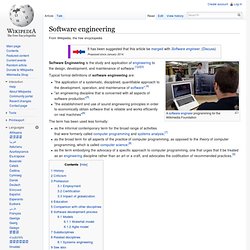 Software engineering
A software engineer programming for the Wikimedia Foundation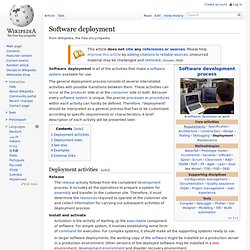 Software deployment
Software deployment is all of the activities that make a software system available for use.
A software development process , also known as a software development life-cycle (SDLC) , is a structure imposed on the development of a software product .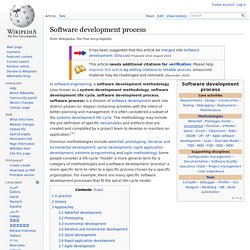 Software Companies Can Do Wonders With Agile Development And Lean Principles
Feb 7 2013 11:06PM GMT Posted by: Jaideep Khanduja
Jul 24 2011 2:03PM GMT
Seven Blogs On SDLC Software Development LifeCycle
Nov 25 2012 7:10PM GMT
Six Failing Factors In Project Management
SDLC-I: Software requirements
Jul 24 2011 2:18PM GMT
Six Sins At Product Development Stage That Can Lead Project To Disaster
Need an engineering team? - Pollenizer
by Phil Morle on When we started Pollenizer in 2008, we also started an Indian business to provide the software engineering services we needed to economically and rapidly launch our web businesses.
Australian Legal Forms - LawDepot.com
Funding Stages and Sources
Stages of Funding | Financing the Business
Wireframing, Prototyping, Mockuping - What's the Difference?
30 Helpful Wireframe Tools
Defining A Growth Hacker: Three Common Characteristics
Defining A Growth Hacker: 5 Ways Growth Hackers Changed Marketing
Defining A Growth Hacker: Growth Is Not A Marketing Strategy
Anonymous BitTorrent Services
IP Hide Tools and Services – AllAnonymity.com » IP Hider – Hide IP Software
How To Watch Streaming Video Anywhere in the World
How to Create Good Item (SKU) Numbers - Clearly Inventory