Development
Superheroic JavaScript MVC Framework. Functional Javascript. Use functional programming techniques to write elegant JavaScript. Introduction Functional programming languages have been in academia for quite some time, but historically they do not have extensive tools and libraries available.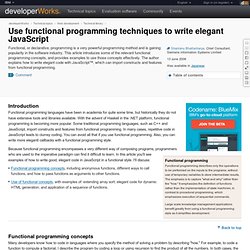 With the advent of Haskell in the .NET platform, functional programming is becoming more popular. Some traditional programming languages, such as C++ and JavaScript, import constructs and features from functional programming. In many cases, repetitive code in JavaScript leads to clumsy coding. You can avoid all that if you use functional programming. Eloquent JavaScript: A Modern Introduction to Programming.
Twitter Bootstrap. CoffeeScript. Functional Programming For The Rest of Us. Monday, June 19, 2006 Introduction Programmers are procrastinators. Get in, get some coffee, check the mailbox, read the RSS feeds, read the news, check out latest articles on techie websites, browse through political discussions on the designated sections of the programming forums. Rinse and repeat to make sure nothing is missed. Go to lunch.
Regex Tester. Node.js stuff. Json stuff. PHPUnit Support. After you set up PHPUnit, Web IDE greatly helps you to run your tests.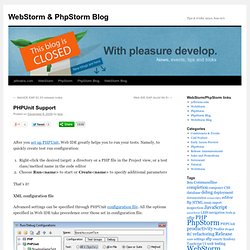 Namely, to quickly create test run configuration: Right-click the desired target: a directory or a PHP file in the Project view, or a test class/method name in the code editorChoose Run<name> to start or Create<name> to specify additional parameters That's it! XML configuration file.
---