To Read
inShare1 Though there is a lot of debate about the value of blog commenting as a form of link building, it is still a very popular linking strategy. This guide covers some basic things you will probably encounter while blog commenting, and how to make sure you get your comment approved more times than not. Benefits of Blog Commenting Links First off, let's look at the benefits of blog commenting.
A Comprehensive Guide to Link Building via Blog Commenting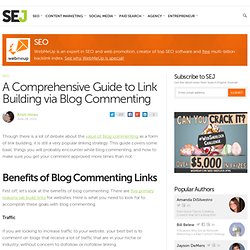 Q&A: Gerd Leonhard on why social media beats search | Econsultan
Gerd Leonhard is CEO of The Futures Agency, and has been described as "one of the leading media futurists in the world" for his views on the development of next-generation business models in the content, communications & technology industries. He will be giving one of the keynote speeches at Econsultancy's Future of Digital Marketing event on June 16. I've been speaking to Gerd (he can be found on Twitter here) about his upcoming keynote, as well as his views on the Times paywall and the future of the music industry.
inShare26 What follows is an edited excerpt from Engage! Anyone who has ever worked in corporate marketing, advertising, and branding is more than familiar with a brand style guide.
The Social Media Style Guide: 8 Steps to Creating a Brand Person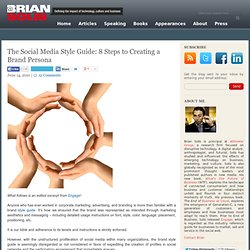 Many social site users make good use of the voice that the medium provides them to talk about brands, products and services. An April 2010 study by ROI Research commissioned by Performics found that, at least once a week, 33% of active Twitter users share opinions about companies or products, while 32% make recommendations and 30% ask for them. Marketers using social media have tried to foster this type of earned media and other brand interactions, but a comparison of the study results with previous research, from October 2009, shows little change in consumers' brand-oriented behavior.
One-Third of Twitter Users Talk Brands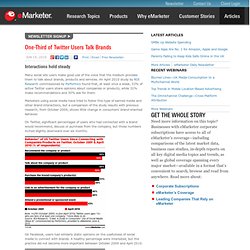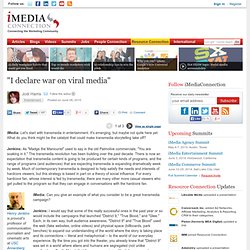 iMedia: Let's start with transmedia in entertainment. It's emerging, but maybe not quite here yet.
"I declare war on viral media"
For people who enjoy running, there's nothing like lacing up the Nikes, heading out the door and hitting that stride. But every runner hits a wall at one point or another and day after day, run after run can soon become monotonous. Sometimes a little jolt to the routine is welcomed. Whether you want to try out new routes, strive to be faster, have better endurance or even lose a little weight, runners (and want-to-be runners) can turn to the following 10 iPhone apps for a little more variety in their training regimens: 1.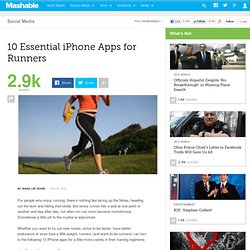 Ehren Starks: piano and cello/jazzy new age
Tagged as: Jazz, New Age, Piano, Best Selling Instrumental, New Age Piano. Born in Tulsa Oklahoma but raised in Kansas City, Missouri. Currently attending the University of Kansas studying Art History Drawing and Painting.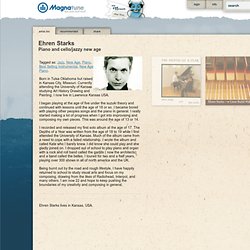 MoreNiche Ltd., a UK affiliate network, just launched a split commissions feature that enables merchants to remunerate not only the last referring affiliate, but also the first, or any other affiliates involved in the presale process. The idea was called "revolutionary." The feature was announced by Shawn Collins a few days before the launch in his AffiliateTip.com blog.
Split commissions in affiliate marketing
Seasonality and search marketing for e-commerce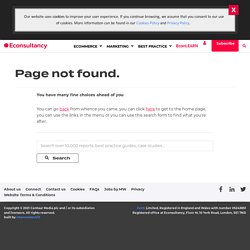 Having been at eTail Europe this week, and it has got me thinking about the different challenges etailers face, many of which should have been solved by now. One of the things I've noticed is how seasonality is a key consideration for all retailers.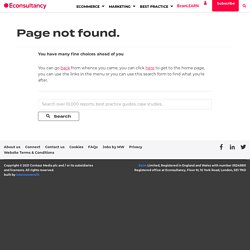 Just 34% of brands feature a community on their website, while less than one in five advertise their social media presence prominently on their homepages, according to a new study. The Engaged Web Study (registration required) by Episerver finds that many brands are not making the most of online opportunities to engage customers and visitors. The report looked at ten companies from eight vertical sectors: Telecoms, Charity, Retail, Sport, Travel, Public Sector, Finance and Utilities, and then scored them against a range of engagement criteria.
UK brands could do more to engage with users: study | Econsultan
10 Ways To Find Inspiration To Develop Content For Your Blog « J
It is something all bloggers battle with..coming up with topics, ideas and content for your next post. I am certainly not immune from this constant challenge of finding inspiration and it continues to be a never ending battle every day. I recently was directly tweeted by Aaron Lee a cyberspace buddy whose opinion I value.
As bloggers, we've all struggled with the following question at one point or another: "What can I write about now?" Sometimes it feels like all the great ideas and unique topics have all been taken, written about and used up.
7 Tips for Creating Unique Content That Doesn't Suck