Subversion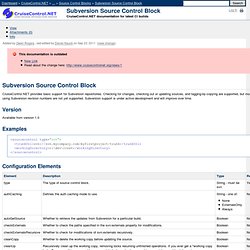 CruiseControl.NET provides basic support for Subversion repositories.
Subversion Source Control Block - CruiseControl.NET
Windows Authentication with Subversion on Windows
How To Properly Set SVN svn:externals Property In SVN Command Line
Updated: October 6th, 2009 Introduction Every time I have to deal with svn:externals in SVN, I forget the command line syntax.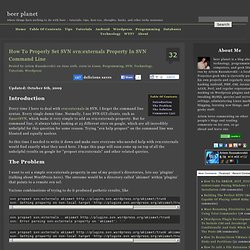 There is a very cool Subversion feature called svn:externals (or External Definitions), which is a very powerful feature that allows several projects to reuse common code.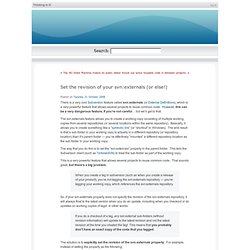 Thinking in G » Set the revision of your svn:externals (or else!)
Subversion Command Line Script to export changed files V2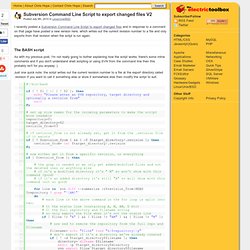 Posted July 9th, 2010 in Linux/Unix/BSD
svn - Subversion: How to compare differences between incoming changes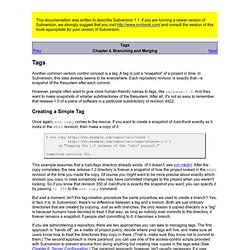 Tags
Another common version control concept is a tag.
So lately I have been given some thought to how we use Subversion (SVN) in our web development, and features we don't use nearly as often.
SVN Switch – Key to Success In Web Development | Justin Carmony's Blog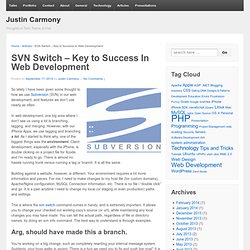 build automation - SVN checkout ignore folder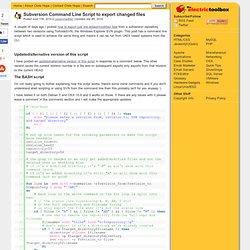 Subversion Command Line Script to export changed files
Posted June 17th, 2010 in Linux/Unix/BSD (Updated July 9th, 2010) A couple of days ago I posted how to export just the added/modified files from a subversion repository between two revisions using TortoiseSVN, the Windows Explorer SVN plugin. This post has a command line script which is used to achieve the same thing and means it can be run from UNIX based systems from the CLI.
svn - Subversion: How to find the differences between two tags
Though many teams are using Subversion (SVN) to work together and share code, version control software provides a huge number of features that are not often used.
Using TortoiseSVN to Export Only New/Modified Files | VerySimple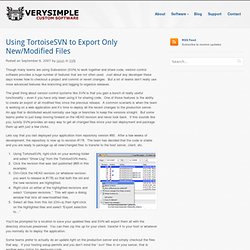 tortoisesvn: Windows Explorer Integration
Choose either WANdisco's new and free uberSVN product that makes Subversion easy to use, easy to install, easy to extend and for the first time, brings social coding to Subversion, or WANdisco's ever-reliable certified open source Apache Subversion binaries.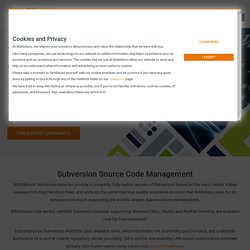 free subversion download |
Setting Up and Running Subversion and Tortoise SVN with Visual Studio and .NET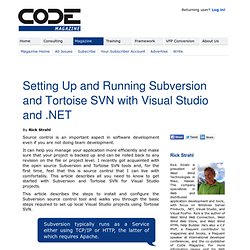 This article describes the steps to install and configure the Subversion source control tool and walks you through the basic steps required to set up local Visual Studio projects using Tortoise SVN. Subversion typically runs as a Service either using TCP/IP or HTTP, the latter of which requires Apache. This article isn't meant to be a comprehensive tutorial on Subversion, but rather a quick, what-you-need-to-know, step-by-step guide to the essential tools to install and configure to get up and running.
SVN SCC proxy is the SCC API plug-in for any Microsoft SCC enabled IDE (MSVC 5.0-7.0, Borland C++ builder, Delphi).
SVN SCC API plugin as the replacement for Microsoft SCC ( sourcesafe )
Suppose it's your job to maintain a document for a division in your company—a handbook of some sort. One day a different division asks you for the same handbook, but with a few parts "tweaked" for them, since they do things slightly differently.
What's a Branch?
Poll: What was your #1 career challenge in 2010?
This is a quick set of guidelines for making the best use of Subversion in your day-to-day software development work.
Subversion Best Practices
sharpsvn: Subversion Library for .Net 2.0+
Comparison of revision control software
The following is a comparison of revision control software.
Setting Up and Running Subversion and Tortoise SVN with Visual Studio and .NET
.net - Subversion Server to use on Windows
language agnostic - Best general SVN Ignore Pattern
Setting up Subversion on Windows
April 5, 2008 When it comes to readily available, free source control, I don't think you can do better than Subversion at the moment. I'm not necessarily advocating Subversion; there are plenty of other great source control systems out there -- but few can match the ubiquity and relative simplicity of Subversion.
Setting Up and Running Subversion and Tortoise SVN with Visual Studio and .NET
ankhsvn: Subversion Support for Visual Studio
Comparison of Subversion clients
Syncro Subversion (SVN) Client
Subversion Binary Packages
Subversion for Windows | Download Subversion for Windows software for free at SourceForge
sharpsvn: Subversion Library for .Net 2.0+
Download Subversion Client