Blogs
Wizard Book n. Hal Abelson's, Jerry Sussman's and Julie Sussman's Structure and Interpretation of Computer Programs (MIT Press, 1984; ISBN 0-262-01077-1), an excellent computer science text used in introductory courses at MIT. So called because of the wizard on the jacket. One of the bibles of the LISP/Scheme world. Also, less commonly, known as the Purple Book. from The New Hacker's Dictionary, 2nd edition (MIT Press, 1993) This site is a companion to the influential computer-science text Structure and Interpretation of Computer Programs, by Abelson, Sussman, and Sussman.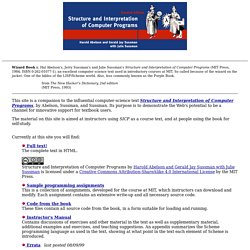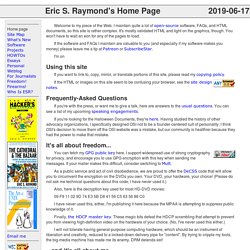 Welcome to my piece of the Web. I maintain quite a lot of open-source software, FAQs, and HTML documents, so this site is rather complex. It's mostly validated HTML and light on the graphics, though. You won't have to wait an eon for any of the pages to load. If the software and FAQs I maintain are valuable to you (and especially if my software makes you money) please leave me a tip.
Best Code Syntax Highlighter for Snippets in your Blog
10 Million hits a day with Wordpress using a $15 server | Ewan's Blog on IT and stuff like it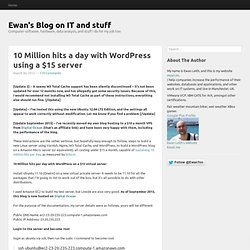 [Update 2] – It seems W3 Total Cache support has been silently discontinued – it's not been updated for over 12 months now, and has allegedly got some security issues. Because of this, I would recommend not installing W3 Total Cache as part of these instructions, everything else should run fine. [/Update]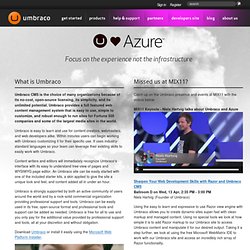 Azure
What is Umbraco Umbraco CMS is the choice of many organizations because of its no-cost, open-source licensing, its simplicity, and its unlimited potential. Umbraco provides a full featured web content management system that is easy to use, simple to customize, and robust enough to run sites for Fortune 500 companies and some of the largest media sites in the world.
Top 7 ASP.NET CMS Options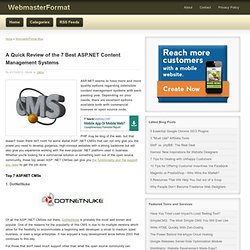 ASP.NET seems to have more and more quality options regarding extensible content management systems with each passing year. Depending on your needs, there are excellent options available both with commercial licenses or open source code. PHP may be king of the web, but that doesn't mean there isn't room for some stellar ASP .NET CMSs that can not only give you the power you need to develop gorgeous, high-concept websites with a strong backbone but will also give you experience working with the ever-popular .NET platform used in business. Whether you're looking for a commercial solution or something born out of the open source community, these top seven ASP .NET CMSes can give you the functionality and the support you need to get the job done.
Orchard CMS Hosting, MVC 3 Hosting at DiscountASP.NET
Deploy Orchard CMS to Azure - LiteMedia
It's no secret that I'm working on a replacement for this blog in Orchard CMS, and while doing so, learning to deploy applications to Azure. There is a guide provided by the Orchard Team, but it takes for granted that you're using Orchard as a plug'n'play CMS and not as a development platform. Here's a small recollection of my findings.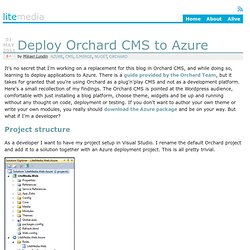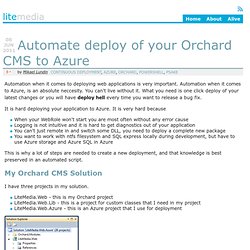 Automate deploy of your Orchard CMS to Azure - LiteMedia
Automation when it comes to deploying web applications is very important. Automation when it comes to Azure, is an absolute neccesity. You can't live without it. What you need is one click deploy of your latest changes or you will have deploy hell every time you want to release a bug fix.
Building a Web CMS (Content Management System) is unlike building a regular web application: it is more like building an application container. When designing such a system, it is necessary to build extensibility as a first-class feature. This can be a challenge as the very open type of architecture that's necessary to allow for great extensibility may compromise the usability of the application: everything in the system needs to be composable with unknown future modules, including at the user interface level. Orchestrating all those little parts that don't know about each other into a coherent whole is what Orchard is all about.
How Orchard works - Orchard Documentation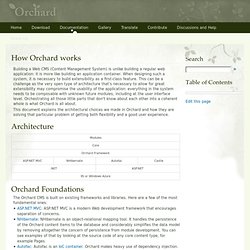 Although you can find a tutorial regarding Deploying Orchard to Windows Azure at Orchard project web page, but I found that the page is not so friendly for those who came across Windows Azure for the first time. So I re-write part of the tutorial especially for those who used / learn Windows Azure for the first time. I also include screen shot for each step so that you know where to click and so on. This tutorial divided into: Building Orchard PackageSetting Up Windows Azure Storage AccountSetting Up Azure SQL DatabaseSetting Up Windows Azure HostingMoving From Local Host to Windows Azure This section show you how you can download the latest Orchard's project source code and build the Orchard package for Windows Azure.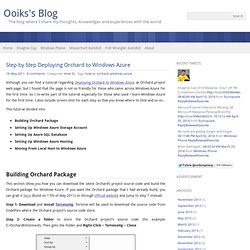 Step by Step Deploying Orchard to Windows Azure | Ooiks's Blog
deployment - How to deploy Orchard CMS in Windows Azure
Experts, Is there any of you guys who has successfully built and deployed Orchard CMS (1.1 and above) in Azure? I've tried to build the source codes (pulled from Codeplex repo) as suggested here: http://www.orchardproject.net/docs/Deploying-Orchard-to-Windows-Azure.ashx but keep on failing. If you see the comments of that article, you'll see some people are having the same problem with the ClickToBuildAzurePackage.cmd.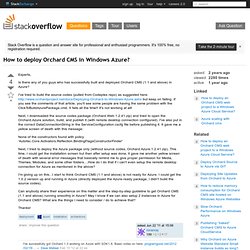 ChrisFulstow/NBlog
README.md NBlog An open source ASP.NET MVC 3 blog engine NBlog is a flexible, lightweight, open source blog engine built on ASP.NET MVC 3, C#, jQuery, Razor view engine, CSS3 and HTML5. It doesn't need a database because it stores your data in JSON files, but if you like databases it also supports SQL Server and MongoDB. Features:
Haacked/Subtext · GitHub#readme
Our apologies, but the website at atomsite.net is unavailable at this time. If you are the owner of this website please contact your hosting provider for assistance. Why is this website not available? The requested website may not exist on this webserver. Website could be suspended due to high resource usage. Unpaid invoices or other billing related issues.
atomsite.net-The AtomPub server for .NET
For those looking for an out of the box experience N2 CMS contains a package of functional templates with News, Wiki, Photo Galleries, FAQs, RSS, Data Entry, Polls and more. With these you'll be up and running no time (demo). The functional templates are completly optional. If you want you can just use an adaptive editing interface that integrates quite nicely into any ASP.NET code. Features include full control of content and nodes, drag&drop, versioning, wizards, export/import, security, globalization and more.
N2 Open Source ASP.NET CMS
dasBlog
dasBlog
What is A Debt Payment Program? A Debt Payment program is a part of the DAS or Debt Arrangement scheme that stops punitive action from creditors and freezes all future interest and charges while you repay your debt over an agreed upon time frame (generally not exceeding 10 years). For Scottish residents, this is a singular scheme that brings relief from the cascading effect of interest charges and costs that accrue on unpaid debts. For a Debt Payment Program to come into force, your income and expenditure are assessed and a disposable income is arrived at.
Oxite
Welcome - FunnelWeb HQ
BlogEngine.NET | An open source ASP.NET 4.0 powered blogging engine
NBlog : ASP.NET MVC 3.0 Blog Engine
Digiati
Brian Farnhill
Use SignalR with Knockout for real-time UX updates in ASP.NET MVC - I Want My MVC
Welcome to OneSaas - Cloud Integrations Made Easy - OneSaas - Cloud Integrations Made Easy
I Want My MVC
Matt Hamilton
Returning Json from MVC Controller - A Load of Code
Kazi Manzur Rashid
Upcoming Courses - Osherove
Resume' - William Bloodworth | Whatever Blows Your Hair Back