4.0
Can .net 2.0 app access/load .net 4.0 assemblies/dll's. Hi Eric, What a coincident just came online to update.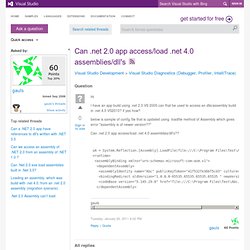 Eric thanks a lot for timely advice. I had decided on two options. MSDN Webcast: geekSpeak: PowerShell for .NET Developers with Doug Finke (Level 200) Microsoft Virtual Labs - Hyper-V Edition. Practical ASP.NET: Managing the Web.config File. Practical ASP.NET Moving the Web.Config to Production in ASP.NET 4.0 Microsoft has another solution for managing your Web.config file as you move your site to production.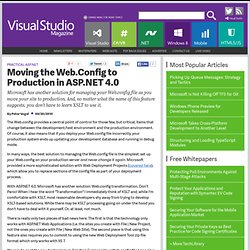 And, no matter what the name of this feature suggests, you don't have to learn XSLT to use it. The Web.config provides a central point of control for those few, but critical, items that change between the development/test environment and the production environment. Of course, it also means that if you deploy your Web.config file incorrectly, your production system ends up updating your development database and running in debug mode. Extending Client-Side Programming in ASP.NET 4. Practical ASP.NET Extending Client-Side Programming in ASP.NET 4 ASP.NET 4 adds a wealth of features for client-side developers, including new ways of instantiating controls, a new infrastructure for managing libraries and some minor but much-needed tweaks.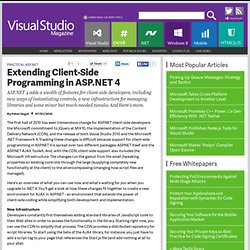 Code-First Development with Entity Framework 4. .NET 4 ships with a much improved version of Entity Framework (EF) – a data access library that lives in the System.Data.Entity namespace.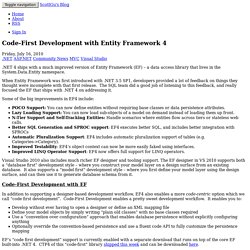 When Entity Framework was first introduced with .NET 3.5 SP1, developers provided a lot of feedback on things they thought were incomplete with that first release. The SQL team did a good job of listening to this feedback, and really focused the EF that ships with .NET 4 on addressing it.
---