Calandars of world n history
Mesoamerican calendars
Stelae 12 and 13 from Monte Alban , provisionally dated to 500-400 BCE, showing what is thought to be one of the earliest calendric representations in Mesoamerica. [ 1 ] Mesoamerican calendars are the calendrical systems devised and used by the pre-Columbian cultures of Mesoamerica . In addition to the basic function of a calendar—defining and organizing periods of time in a way that allows events to be fixed, ordered and noted relative to each other and some absolute progression—Mesoamerican calendars were also used in religious observances and social rituals, such as for divination .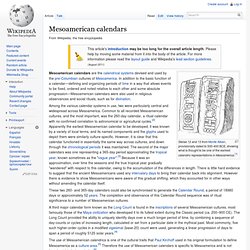 The Mixtecs were one of the most influential ethnic groups to emerge in Mesoamerica during the Post-Classic.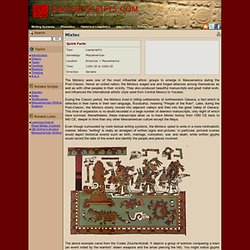 Mixtec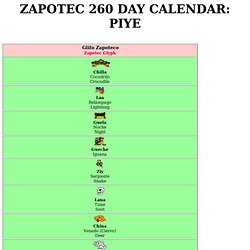 Ilustraciones: Alfonso Caso, Rubén Méndez, Javier Urcid, Catalina Voigtlander The Sacred Calendar The table illustrates the flow of the sacred 260-day calendar.
ZAPOTEC 260 DAY CALENDAR
The Maya calendar is a system of calendars used in pre-Columbian Mesoamerica , and in many modern communities in highland Guatemala [ 1 ] and in Veracruz, Oaxaca and Chiapas, Mexico. [ 2 ] The essentials of the Maya calendar are based upon a system which had been in common use throughout the region, dating back to at least the 5th century BCE. It shares many aspects with calendars employed by other earlier Mesoamerican civilizations, such as the Zapotec and Olmec , and contemporary or later ones such as the Mixtec and Aztec calendars . [ 3 ] Although the Mesoamerican calendar did not originate with the Maya, their subsequent extensions and refinements of it were the most sophisticated. [ citation needed ] Along with those of the Aztecs , the Maya calendars are the best-documented and most completely understood. [ citation needed ]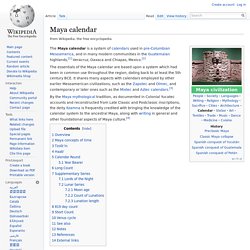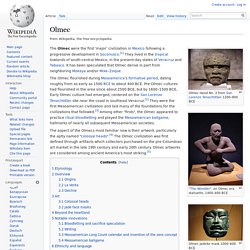 Olmec jadeite mask 1000–600 BCE
Olmec