ESL and Technology
Connected Educators | Strengthening connected online communities of practice in education. Starter-kit-final. Rethinking Learning and Technology. Oh wow!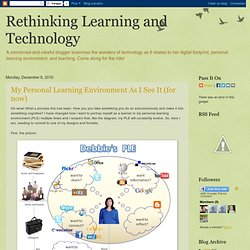 What a process this has been. How you you take something you do so subconsciously and make it into something cognitive? More on Online Language Learning. Last week's article on online language learning apparently hit a nerve; not only was it widely e-mailed, but a number of people told me about other language courses that I had missed in my research.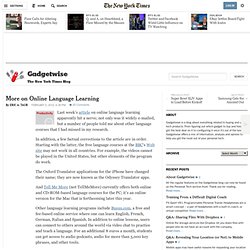 In addition, a few factual corrections to the article are in order. Starting with the latter, the free language courses at the BBC's Web site may not work in all countries. For example, the videos cannot be played in the United States, but other elements of the program do work. The Oxford Translator applications for the iPhone have changed their name; they are now known as the Odyssey Translator apps. And Tell Me More (not TellMeMore) currently offers both online and CD-ROM-based language courses for the PC; it's an online version for the Mac that is forthcoming later this year. ICT for Language Teachers: QR codes in education: Why all the fuss?
The Web is abuzz at the moment with blogs on using QR codes in education.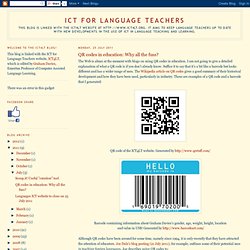 I am not going to give a detailed explanation of what a QR code is if you don't already know. Suffice it to say that it's a bit like a barcode but looks different and has a wider range of uses. The Wikipedia article on QR codes gives a good summary of their historical development and how they have been used, particularly in industry. These are examples of a QR code and a barcode that I generated: Barcode containing information about Graham Davies's gender, age, weight, height, location and value in US$! Teachers Guide to The 21st Century Learning Model : Connected Learning. In the last Digital and Learning Conference that took place in San Francisco, researchers and scholars cited an ever-widening gap between what they considered in-school learning and out-of-school learning.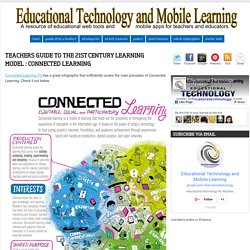 The abyss between the two types of learning is growing wider and wider as more and more students are having free unlimited access to all kinds of information online. For them school curricula are boring as they teach things that are not immediately related to their everyday lives. This is why disengagement, short attention span, and lack of motivation are among the most alarmingly challenging issues confronting every teacher today.
Researchers in Digital Media and Learning Conference stressed upon the fact that for learning to be effective, it definitely needs to be " interest-driven and reinforced in the different contexts of kids lives by parents, educators, and knowledgeable peers. " Social Innovation Audio Lectures | Social Innovation Conversations. Working through social enterprise in improving and securing crop yield, especially rice, scientists have enabled farmers in India and Bangladesh to feed their families and earn a profit from their surplus.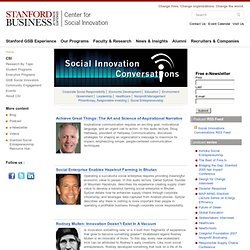 In this audio interview, Pamela Ronald, of the University of California, Davis, talks with Stanford Center for Social Innovation correspondent Sheela Sethuraman about how her laboratory, in collaboration with other scientists, developed a variety of rice with sufficient submergence tolerance to survive severe flooding.
K-12 Education & Learning Innovations with Proven Strategies that Work | Edutopia.
---