TECHNOLOGY
The Nanotube Site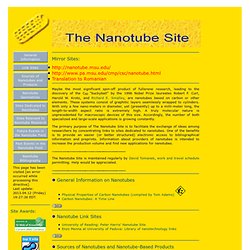 http://nanotube.msu.edu/ http://www.pa.msu.edu/cmp/csc/nanotube.html Translation to Romanian Maybe the most significant spin-off product of fullerene research, leading to the discovery of the C60 "buckyball" by the 1996 Nobel Prize laureates Robert F. Curl, Harold W. Kroto, and Richard E. Smalley, are nanotubes based on carbon or other elements. These systems consist of graphitic layers seamlessly wrapped to cylinders.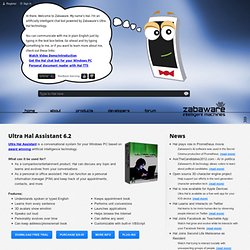 Giving your computer the power of thought...
Ultra Hal Assistant 6.2 Ultra Hal Assistant is a conversational system for your Windows PC based on award winning artificial intelligence technology. What can it be used for?
8 April 2000 by Kate Melville British and Swiss scientists have developed a robot with an electronic visual system based on that of a locust, enabling it to behave like a swarming insect and avoid collisions with objects. Dr Claire Rind, of the University of Newcastle upon Tyne, showed locusts clips of the Star Wars movie to study how their eyes and nerve cells reacted to fast-moving objects and backgrounds. She hopes the robot's neural network program, which mimics part of the locust's brain, will be the basis of a collision-avoidance system for cars. The conventional approach to creating such systems involves using radar or infrared detectors, and requires very heavy-duty computer processing.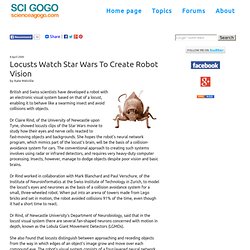 Locusts Watch Star Wars To Create Robot Vision
HAL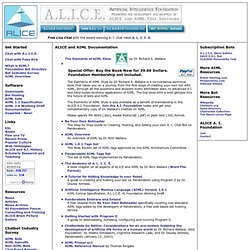 The Elements of AIML Style by Dr. Richard S. Wallace is a no-nonsense technical book that takes you on a journey from the first steps of creating your own bot with AIML, through all the questions and answers every botmaster asks, to advanced A.I. and hard-nosed business applications of AIML. The trip ends with a brief glimpse into the future of bots and AIML. The Elements of AIML Style is also available as a benefit of membership in the ALICE A.I.
and AIML Documentation (A.L.I.C.E. AI Foundation)
*notcot in design , 19:43 On incredible temporary event spaces, the Smart House (home of the Smart Fortwo) is one of the coolest spaces around. Located on Abbot Kinney in Venice Beach, surrounded by some of the cutest boutiques, restaurants, and bars and only a few blocks from the beach, its a pity this loft will only be around till january.
Smart House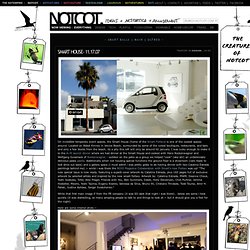 James Bond 007 :: MI6 - The Home Of James Bond
Control Engineering, Marine Joystick Controls, joystick boat control, Engineer, Manufacture, Installation and Repair Marine Automation and Control Systems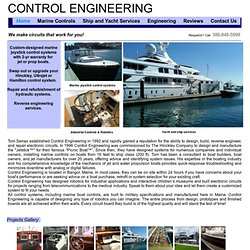 We make circuits that work for you! Requests? Call 386-846-5999 Custom-designed marine joystick control systems with 2-yr warranty for jet or prop boats.
remote control posts - Crave - Page 3 - CNET
Originally designed to be operated by adults using paintball guns or lasers, there is a new emerging market for these vehicles. Center Parcs for example, found that just offering them as leisure rides, without 'guns', they were able to put large numbers of people through their 4-tank site. The ride experience was sufficiently novel to allow them to break-even on capital outlay in just 8 weeks. It would appear that a major emerging market for these vehicles is the 8-14 year olds. (That's a lot lower than quads/go-karts and doubles the potential number of drivers.) A simple course can be set up in a relatively small area of grass or concrete.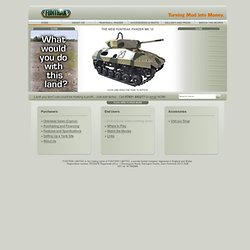 Funtrak Limited :: Built like a Tank.
Bose Worldwide - Contacts
Home > Introduction > Nanotechnology Basics Nanotechnology Basics Last Updated: Friday, 14-Jun-2013 09:28:04 PDT What is Nanotechnology?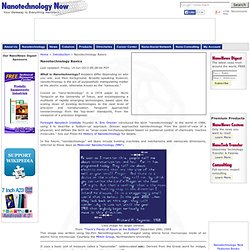 Nanotechnology Basics
By Joel Enos(3/22/00) First the Net went portable. Now it's going practical. Forget about plug-and-surf Web computers such as the iMac; we're talking about stoves that store recipes, and toilets that email personal information to your doctor. It sounds like just so much new-millennium hype, but Net-enabled appliances are the first wave of a complete revolution in home design--a revolution that's happening right now.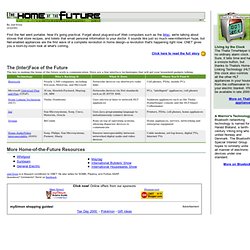 CNET.com - Tech Trends - Cutting-Edge Technology - The Home of the Future
Design Guidelines and Tools
Registered in U.S. Patent and Trademark Office International VentureCraft Corp. Tel: 604 220 4141 Email us Are you fascinated by Submarines like we are?
SportSub submarines, submersibles, minisubs, tourist subs, personal subs, subs, small tourist subs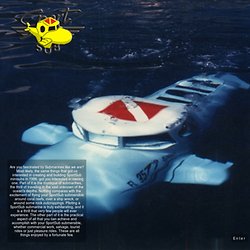 Museum of Creative Invention We aim to: Collect, preserve and display exhibits, which embrace at least two of the Land, Air and Sea elements. These exhibits will normally represent the aspirations and achievement of individuals or small groups rather than be mass produced or military items and/or have an exciting history or novel invention element.
Land, Air and Sea - Museum of Strange and Wonderful Vehicles
Wired 12.05: NextFest: The Shape of Things to Come
Fasten your seat belts: The long-awaited future of travel gets real. It's always been just over the horizon: a world of flying cars, levitating trains, personal helicopters. Now it's here.
New & Proposed Launch & Propulsion
Cookies on the New Scientist website close Our website uses cookies, which are small text files that are widely used in order to make websites work more effectively.
Home - Smarthouse