Telephony
SIP-Broker: Festnetznummern zum Anrufen auf SIP-Telefone
Provider White Pages
Prior to reQall, Sunil worked at France Telecom and Apple Computer. Sunil's interests include Human Memory Assistance, Information Retrieval, Information Extraction, Information Visualization, Knowledge Acquisition, Organizational Memory, Speech Recognition, and Interface/Interaction design. He has three patents and his research has been extensively covered in the New York Times, Boston Globe, Newsweek, CNN, and MIT Technology Review. He received his Ph.D. from MIT's Media Lab, his Masters Degree in Computer Science from Stanford University, and his Bachelors Degree in Cybernetics from UCLA.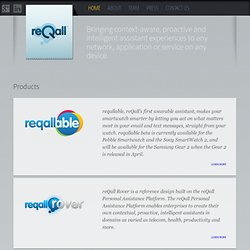 Das IP-Phone-Forum Wiki ist das Wiki . wird über jedes Thema der Internet-Telefonie diskutiert, Fragen werden gestellt und geklärt, Wissen getauscht, Tipps und Tricks werden weitergegeben. Hier versammeln sich "VoIP"er vom interessierten Anfänger bishin zu Experten und wahrlichen Enthusiasten. Dabei geht es um allgemeine Fragen zu VoIP, Technologien, Produkte und Anbieter. stellt Wissenswertes zu diesen Themen zusammen, bietet Tips und Erfahrungen sowie dokumentiert Ergebnisse aus dem Forum in einer übersichtlichen, gut strukturierten Form.
start [IP-Phone-Forum Wiki]
Corporation - Downloads
This Wiki covers everything related to VOIP, software, hardware, VoIP service providers, reviews, configurations, standards, tips and tricks and everything else related to voice over IP networks, IP telephony and Internet Telephony. Your contributions are welcome, please read the How to add information to this wiki page and the Posting Guidelines before you post. News Resources Software Releases - Check here for recent VoIP-related software releases.
voip-info.org