Telephony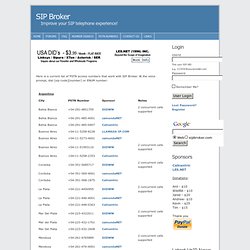 SIP-Broker: Festnetznummern zum Anrufen auf SIP-Telefone
If you can not find a local PSTN access number to dial, then checkout our new Voxalot Web Callback service. Here is a current list of PSTN access numbers that work with SIP Broker. At the voice prompt, dial [sip-code][number] or ENUM number: Note: ENUM (*013) is the default SIP-Code . In the above examples, you could dial 1-604-484-5289 or *013-1-604-484-5289 with the same results. SIP Broker does not guarantee that this service will continue to operate in the longer term.
Provider White Pages
Das IP-Phone-Forum Wiki ist das Wiki . wird über jedes Thema der Internet-Telefonie diskutiert, Fragen werden gestellt und geklärt, Wissen getauscht, Tipps und Tricks werden weitergegeben. Hier versammeln sich "VoIP"er vom interessierten Anfänger bishin zu Experten und wahrlichen Enthusiasten. Dabei geht es um allgemeine Fragen zu VoIP, Technologien, Produkte und Anbieter. stellt Wissenswertes zu diesen Themen zusammen, bietet Tips und Erfahrungen sowie dokumentiert Ergebnisse aus dem Forum in einer übersichtlichen, gut strukturierten Form.
start [IP-Phone-Forum Wiki]
Corporation - Downloads
This Wiki covers everything related to VOIP, software, hardware, VoIP service providers, reviews, configurations, standards, tips and tricks and everything else related to voice over IP networks, IP telephony and Internet Telephony. Your contributions are welcome, please read the How to add information to this wiki page and the Posting Guidelines before you post. Update: We have added the Facebook Like and Google +1 button to the top right corner of all pages on Voip-Info.org. Please help recommend the wiki by clicking on them.
voip-info.org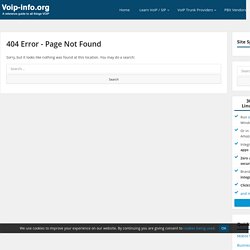 Nutzen Sie die Freiheiten und Vorteile einer ausgelagerten, betreuten, weltweit vernetzbaren Telefonanlage. Frei von Betreuungsaufwand und -kosten. Unabhängig vom Standort. Per Mausklick leicht zu konfigurieren. Das alles hat Silver:VoIP:PBX herkömmlichen Telefonanlagen weit voraus. Betrieb und Wartung erfolgen dabei im Rechenzentrum von Silver Server.
ver:VoIP:PBX
Technology, Inc.