WebDesign
If you caught my last tutorial, you know that Nathaniel from Tutvid.com and I have teamed up to bring you a series of tutorials inspired by 365PSD.com. A site where you can download completely free PSD files for you to use in your projects. In today's tutorial, we're going to be creating a similar cloud icon to the one you see below, which again, can be downloaded, for free, at 365PSD.com! Of course, the first thing that we need to do, is map out the cloud.
Photoshop: Cloud Icon • IceflowStudios Design Training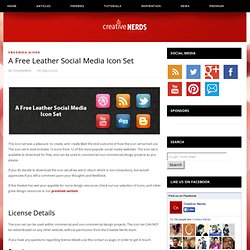 This icon set was a pleasure to create, and i really liked the end outcome of how the icon set turned out. The icon set in total includes 12 icons from 12 of the most popular social media websites. The icon set is available to download for free, and can be used in commercial non commercial design projects as you please. If you do decide to download the icon set all we ask in return which is not compulsory, but would appreciate if you left a comment upon your thoughts and feedback. If this freebie has wet your appetite for more design resources check out our selection of icons, and other great design resources in our premium section.
A Free Leather Social Media Icon Set
Designers Needed
30+ Easy To Follow Photoshop Layout Design Tutorials
Living in the 20th century being a web designer and not having a portfolio is simply ludicrous. A web portfolio is a powerful commodity, it's the perfect way to present and sell yourself to new clients, and one of the easiest ways to showcase your skills to a world wide audience. Creating a good portfolio which entices clients is no small task, therefore through out the article I will be sharing tips and tricks on how you can enhance your web portfolio. Less Is more, quality over quantity big stock: image
5 Things Your Web Design Portfolio Is Missing
At some point within a designer or web designers freelancing career you will get to a point when quiet period may occur, for instance you may have finished a freelance project and have some spare time available before the start date of your next project. This article share tips on how to stay pro-active as well as productive during a quiet freelancing period. Start a blog
8 Ways To Stay Productive as Freelance Designer During A Quiet Period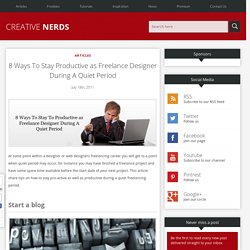 Types of Posts and How to Successfully Combine These on a Web Design Blog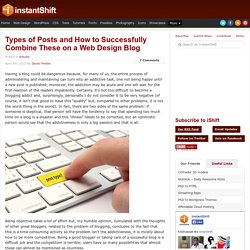 Having a blog could be dangerous because, for many of us, the entire process of administering and maintaining can turn into an addictive task, one not being happy until a new post is published; moreover, the addiction may be acute and one will wait for the first reaction of the readers impatiently. Certainly, it's not too difficult to become a blogging addict and, surprisingly, personally I do not consider it to be very negative (of course, it isn't that good to have this "quality" but, compared to other problems, it is not the worst thing in the world). In fact, there are two sides of the same problem: if someone is skeptical, that person will have the tendency to say that spending too much time on a blog is a disaster and this "illness" needs to be corrected, but an optimistic person would say that the addictiveness is only a big passion and that is all.
Make an Amazing Portrait Effect in Photoshop « Effects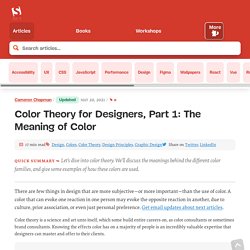 Advertisement Color in design is very subjective. What evokes one reaction in one person may evoke a very different reaction in somone else.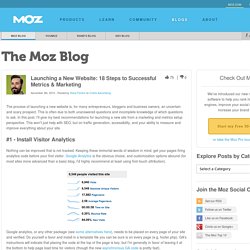 The process of launching a new website is, for many entrepreneurs, bloggers and business owners, an uncertain and scary prospect. This is often due to both unanswered questions and incomplete knowledge of which questions to ask. In this post, I'll give my best recommendations for launching a new site from a marketing and metrics setup perspective. This won't just help with SEO, but on traffic generation, accessibility, and your ability to measure and improve everything about your site.
In this tutorial we will create a clean Twitter app interface in Photoshop using layer styles and basic vector shapes. Let's get started! This tutorial was a collaboration with Syarip Yunus
Create a Clean Twitter App Interface in Photoshop
Advertisement Often, it's the little details that turn a good layout into a great design; details such as subtle textures, shading and smooth shapes. Photoshop contains a vast array of tools for embellishing a design, but choosing the right one isn't always easy. Being the obsessive-compulsives that we are, we've conducted a huge range of experiments to determine the benefits and disadvantages of each technique.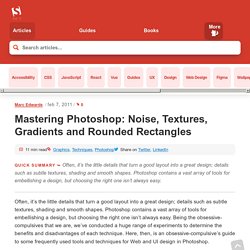 Mastering Photoshop: Noise, Textures, Gradients and Rounded Rectangles
Interview With Khajag Apelian"Type Design Is Not Only About Drawing Letters" Having started his career studying under some of the best typographic minds in the world, Khajag Apelian not only is a talented type and graphic designer, unsurprisingly, but also counts Disney as a client, as well as a number of local and not-for-profit organizations throughout the Middle East. Even more impressive is Khajag's willingness to take on work that most people would find too challenging. Designing a quality typeface is a daunting task when it's only in the Latin alphabet.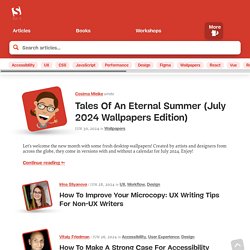 4 Simple Steps to Optimize Your Photos for Search Engines
8 Ways to Get More Followers Today on Vimeo
17 Wordpress Theme Design Tutorials 
¿Quién invierte en mi idea? - El Blog de Camon
Una buena idea o un proyecto genial a veces no es suficiente para llevarlo a cabo, ¿cómo lo financiamos? sin ayuda de entes públicos o privados sólo nos queda recurrir al Crowdfunding o la Financiación Colectiva, un nuevo modelo que permite financiar nuestros proyectos con la suma de pequeñas aportaciones económicas de nuestro propio público objetivo. Pero claro, para llegar a este público hay que tener en cuenta conceptos como la transparencia radical o el retorno.
Creating A Cool 3D Web Design Effect
In this tutorial I will show you some very easy techniques, using gradients and layer styles, that we can use to produce nice subtle 3D effects in our web designs. Step 1 Create a new document with 1000x750px. Double click on the background's layer and in Color Overlay and choose a dark brown. Step 2
12 Rules for Choosing the Right Domain Name - SEO Tips
Claves para diseñar páginas webs frescas, actuales y modernas