ROBOTS
Répertoire des robots du web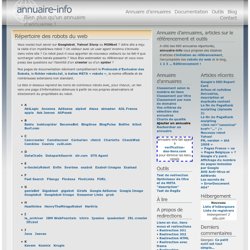 annuaire-info
Robots - The Old Robot's Web Site
Compressor Head: los "más heavy" del mundo
Alibaba Robot CES 2011
Robots of Dawn (Foundation-Saga 2011) ASIMOV
Living With Robots
03/28/2013 , Just what is the biggest jellyfish that you have ever come across whenever you are at the seaside, or traveling on a boat over a body of seawater? Well, most of these tend to be small, and the general rule [...]
robot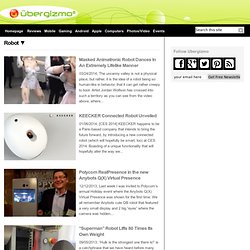 Brain-Machine Interface Technology Enabling Control of a Robot by Human Thought Alone
BigDog Evolution
HiBot Amphibious snake robot
La boutique du Robot | mecadroid.com
AR.Drone France - Le 1er quadricoptère Wi-Fi piloté par un iPhone/iPod Touch/iPad et Android
Martin Jetpack : Envolez-vous dans les airs pour échapper aux bouchons
Vous en avez assez des bouchons et vous vous dîtes qu'il serait temps qu'un inventeur se penche sur une technologie de mobilité personnelle permettant de voler ?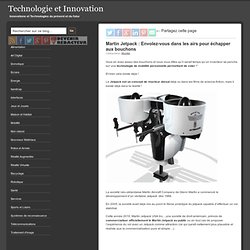 Accueil
Home — Harvard School of Engineering and Applied Sciences
ZMP
FastRunner
FastRunner is a new bipedal platform inspired from the fastest biped animals, and developed at IHMC.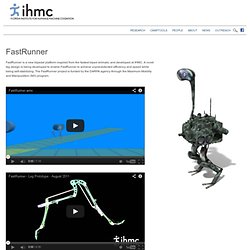 Par Sylvain Biget, Futura-Sciences
Les robots humanoïdes apprennent à se promener sur la plage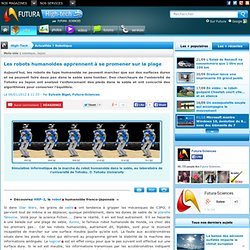 toute l'actualité de la robotique
Cubernetès
Naoforge.net
Domotica.Net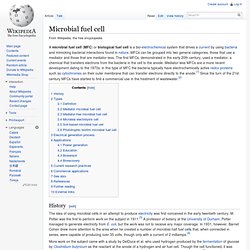 Microbial fuel cell
A microbial fuel cell ( MFC ) or biological fuel cell is a bio- electrochemical system that drives a current by mimicking bacterial interactions found in nature . MFCs can be grouped into two general categories, those that use a mediator and those that are mediator-less.
Fred Barton Productions : Celebrity Robots Brought to Life
Robot Videos
Actualité Robotique - Blog RobotShop
FESTO
Mercredi 30 mars 3 30 / 03 / Mars 17:15 Documentaire vidéo sur la nanotechnologie et la symbiote robotique.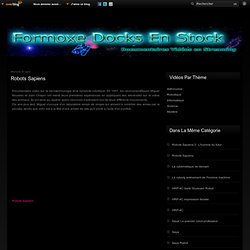 Robots Sapiens - Docs En Stock
L'homme transformé
Robot Sapiens : homme du futur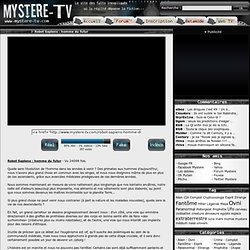 Robot Sapiens : homme du futur - Vu 21675 fois.
Our apologies.
Assistant de manipulation bionique-Namoroka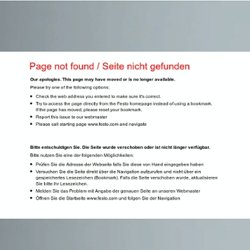 Thursday, April 2, 2009 Scientists funded by the Biotechnology and Biological Sciences Research Council (BBSRC) have created a Robot Scientist which the researchers believe is the first machine to have independently discovered new scientific knowledge.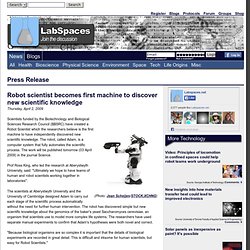 Robot scientist becomes first machine to discover new scientific knowledge-Namoroka
Un robot en LEGO résoud un Rubik's Cube
Le site de l'actualité Robotique !
Weblist "Robots et interfaces"
Guard Robot D1 guide les touristes et surveille les méchants
l'actualité des robots et de la robotique - Page 51
RoboCup Soccer 2010 : Quand les robots inspirent l'équipe de France !! | Abysse-Tech
La RoboCup Soccer est la coupe du monde annuelle des robots de foot ! Cette année, elle se situe à Singapour du 19 au 25 juin. Cela permet de mettre en pratique les innovations robotiques avec le même standard pour toutes les équipes.
Un article de Wikipédia, l'encyclopédie libre. Cet article concerne les robots matériels.
1.7.1.A Robotique - électronique