INDIGNADOS
#globalNOISE #13O
The site you are trying to view does not currently have a default page. It may be in the process of being upgraded and configured. Please try this site again later. If you still experience the problem, try contacting the Web site administrator. If you are the Web site administrator and feel you have received this message in error, please see "Enabling and Disabling Dynamic Content" in IIS Help. To access IIS Help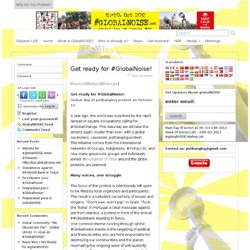 Les réseaux sociaux propagent la mobilisation. À l'occasion d'une « journée mondiale des indignés » des manifestations ont lieu dans 951 villes de 82 pays. Les scènes d'occupation se multiplient d'Athènes à Lisbonne, de Londres à Paris, devant la grande arche de la Défense, et dans 146 villes aux États-Unis. Ce livre est né du mouvement Occupy, qui a mobilisé les penseurs les plus radicaux et une nouvelle génération d'écrivains américains, dont certains rédacteurs des influentes revues littéraires : n+1, Dissent, Triple Canopy et The New Inquiry. Titre : Occupy wall street !
Occupy wall street ! - les arènes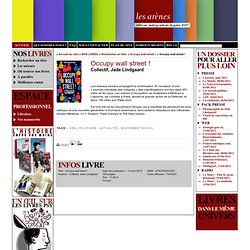 Agenda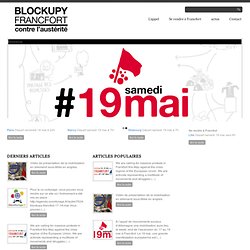 Toutes et tous à Francfort du 17 au 19 mai 2012
Toutes et tous à Francfort du 17 au 19 mai 2012 Main Menu Slideshow Se rendre à Francfort
M31 — european day of action against capitalism · 31.03.2012
tidal: occupy theory, occupy strategy
Marche des banlieues Indignés - Démocratie Réelle Maintenant http://paris.demosphere.eu/rv/20650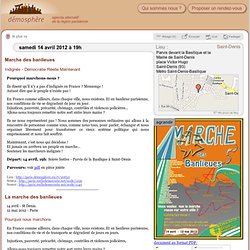 14 avril: Marche des banlieues - Indignés, Démocratie Réelle Maintenant / Saint-Denis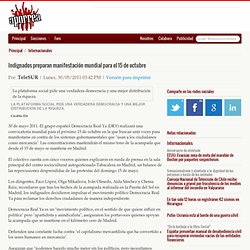 30 de mayo 2011.-El grupo español Democracia Real Ya (DRY) realizará una convocatoria mundial para el próximo 15 de octubre en la que buscan unir voces para manifestarse en contra de los sistemas gubernamentales que "usan a los ciudadanos como mercancía". Las concentraciones mantendrán el mismo tono de la acampada que desde el 15 de mayo se mantiene en Madrid.
Indignados preparan manifestación mundial para el 15 de octubre
Democracy Now!
OCCUPY THE MOVIE -- IndieGoGo
This short tutorial, HOW TO FILM A REVOLUTION, instructs citizen journalists how to safely film police violence. One our films I AM NOT MOVING went viral and surpassed 1 million views in 48 days and is now translated into many languages. About the Movie OCCUPY THE MOVIE will document the Occupy movement's first year with gritty detail, while exploring its origins, purpose, and future. It will be like no other film you've seen, intercutting the dramatic handheld footage of protestors with candid interviews of the movement's leaders and enemies.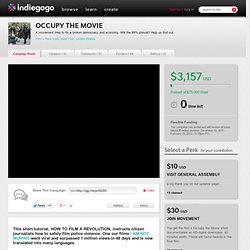 Occupy Everywhere
How To Occupy
Glad you liked it. Would you like to share? Share No thanks Add New Comment Showing 5 of 114 comments
Home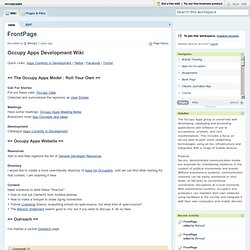 occupyapps [licensed for non-commercial use only] / FrontPage
Quick Links: Apps Currently in Development | Twitter | Facebook | Tumblr == The Occupy Apps Model : Roll Your Own == Call For Stories
POWER TO THE POSTER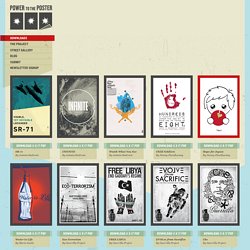 INFINITEBy Antonio Hadrovic Watch What You SeeBy Antonio Hadrovic Child SoldiersBy Jimmy Chanthavong Hope for JapanBy Jimmy Chanthavong Water Is LifeBy Marin Santic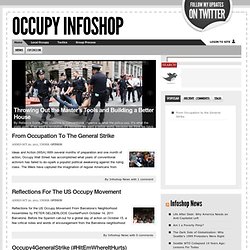 Ideas and Action (WSA) With several months of preparation and one month of action, Occupy Wall Street has accomplished what years of conventional activism has failed to do–spark a populist political awakening against the ruling class. The 99ers have captured the imagination of regular Americans from every background and point of view, unified by a general disgust with the upper […] Reflections for the US Occupy Movement From Barcelona's Neighborhood Assemblies by PETER GELDERLOOS CounterPunch October 14, 2011 Barcelona. Before the Spanish call-out for a global day of action on October 15, a few critical notes and words of encouragement from the Barcelona neighborhood assemblies… After the courageous revolts of the Arab Spring, the next phenomenon of popular resistance to capture […]
Occupy Infoshop
CACHE
NLRB asks for briefs in Point Park University's long dispute with teachers By Marcus Schwarz / Pittsburgh Post-Gazette Are Point Park University professors labor or management? That question is at the heart of a long-running dispute between the school and its faculty that could change the status of higher education employees nationwide.
Call for a Global Spring in May 2012
Throughout this period of civil disobedience, from Tunisia, to Iceland and the latest uprisings in Greece and India (feel free to add other places), if anything has become clear it is that not only political systems have reached advanced levels of disintegration, so have their methods of representation, as well as their subordination to capitalist rule.In 2011 we took the streets, we regained our public spaces, got together, opened up dialogues and shared our dreams. We joined forces to make it clear that we are not commodities at the will of politicians and bankers who instate austerity policies and make our lives precarious. Instead, we declare, with our fellow Greeks "We owe nothing, we will not pay and will not sell ourselves!" However, what is far more important is that we also share a desire in re-appropriating our lives and the commons by means of direct participation, joint management, and ultimately the desire for a true democracy at the service of everyone.
À l'occasion de sa conférence de presse, mardi 14 janvier, François Hollande a annoncé une mesure phare : la suppression des cotisations familiales, qui sont à la charge des entreprises, soit un allègement de près de 35 milliards d'euros d'ici à 2017. Venant prolonger le « choc de compétitivité » qui prend effet en 2014 et qui va fournir d'ici à 2015 près de 20 milliards d'euros aux entreprises, sous la forme de crédit d'impôt, c'est donc un plan massif d'allègements fiscaux et sociaux que le gouvernement met en chantier. Dans le même temps, le chef de l'État a aussi donné l'assurance que les ménages seraient épargnés, et qu'il n'y aurait « pas de transfert de charges des entreprises vers les ménages ». Sous-entendu : le gouvernement a tiré la leçon du choc qu'ont créé dans l'opinion les vagues de hausses d'impôts de ces derniers mois, et il n'y en aura plus d'autres dans les mois et les années qui viennent.
Démocratie réelle et maintenant Nîmes
Paula Deen's public admission that she has Type 2 diabetes and her follow-up announcement that she is also a paid spokesperson for the pharmaceutical company Novo Nordisk, and its diabetes drug, Victoza, has sparked an interesting debate about the deeper issues surrounding our food system—especially the impact it has on the many people diagnosed with diabetes. And according to Deen's comments on the Today show, she implies to her millions of fans, that the primary ways to deal with this largely diet-related disease are through personal responsibility and pharmaceuticals. Indeed, when Al Roker, asks her if she is going to change the way she eats and the foods she cooks, Deen says, "Honey, I'm your cook, I'm not your doctor. You are going to have to be responsible for yourself." Evading the question, Deen puts the onus back on the individual to decide what foods to eat or not, despite the fact that she promotes unhealthful and processed foods on TV.
Occupy Big Food
Yes we camp
Occupiers' Think Tank
Occupy Los Angeles | Occupy Wall Street comes to Downtown L.A.! We are the 99%. This is Direct Democracy.
Occupytalk.org
#ONL
occupyvaud
#Occupy Europe
15.O-Unitedforglobalchange
News
occupybristol's Channel
globalrevolution
Occupy the Dream
Bienvenue - Occupons la Défense
Les indignés du monde, en Suisse – occupy vaud / Les indignés Vaud / Section vaudoise des Indignés suisse-romands. Les indignés du monde, en Suisse – Démocratie Globale et Réelle Maintenant !
Démocratie Réelle Maintenant – Les Indigné-e-s de Brest
Scott Olsen's message to the Occupy Wall Street Movement
De New York à la Défense, tout pour suivre les Indignés
Occupy Wall Street | NYC Protest for World Revolution
Occupy DC pulls off a major "Koch-cupation"! (3 items)
occupyanchorage
unnamed pearl
NYC General Assembly | The Official Website of the GA at #OccupyWallStreet
RateMyCop.com
Mouvement des Indignés – « Deux intellectuels assis vont moins loin qu'une brute qui marche. »
Occupy Wall Street | NYC Protest for American Revolution
Occupy Together | Home
Global protests
Occupy Together : Top 12 des lois les plus absurdes utilisées pour étouffer le mouvement
Protest.Net: A calendar of protest, meetings, and conferences.
Global Guerrillas
Calendar
Qui sommes-nous
15th october: #United we will re-invent the world | Just another Take The Square Sites site
globalrevolution
Europeanrevolution
OCCUPY FRANCE
#FrenchRevolution
(20) Twitter / Search - #occupyDefense
Accueil | paris.reelledemocratie.com
19S Paris - Violences policières contre les indignés - 139 blvd Saint-Germain
Les indignés @ Paris 17 septembre
Take the Square - International
France Uncut (fruncut) on Twitter
France Uncut - On paiera pas leur crise !