Hi.tech & Co 2
BlogNT : Le Blog des Nouvelles Technologies dédié au Web, aux nouvelles technologies et au développement Web. Maker Faire - Maker Faire Bay Area 2012 May 19th & 20th. Bulletins-electroniques.com : toute l'actualité technologique internationale en français, en accès libre et gratuit ! Tech Home The Bacon | We Don't Push Kilos, We Move Ones And Zeros.
Les tablettes se vendront 2x mieux cette année. Ubuntu vient de passer en version 12.04 "Precise Pangolin", version qui a la particularité d'être une LTS (Long Term Support, service après-vente longue durée).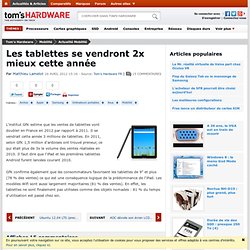 Destinées aux entreprises, aux serveurs, les LTS ne sont renouvelées qu'une fois tous les deux ans, quand les versions normales ne durent que 6 mois. Ubuntu 12.04 sera ainsi la première LTS munie de l'interface controversée Unity. Petit point sur les nouveautés dans la version Desktop: Discovery News: Earth, Space, Tech, Animals, History, Adventure, Human, Autos. The Verge.
DigInfo TV - Technology News From Japan | Videos of the latest tech, gadgets and research direct from Tokyo. Ubergizmo FR. The UK's leading source for Hardware and Games reviews. EcoGeek - Brains for the Earth. Computeruser.com - online security, network security, forums, small businesses technology, software reviews. Bistro Bar Blog. TechChange | The Institute for Technology and Social Change. LaptopSpirit. Sculpteo Blog.
---