DRUGS
Yes, we're still that same group of friends dedicated to spreading the word of the plants and incense resins we adore with rich Shamanic history in the world of entheogens and exotic ethnobotanicals such as Kratom Leaf, Kratom Extract, Kava Kava, BLue Lotus and many others. We also specialize in the items that have been most-requested of us over the years (See Meditation Supplies for a great example of this). Hundreds of thousands of customers later, we've listened to your requests and have created a new online shopping experience that we hope will exceed your expectations. Built from the ground up to assure you the TIGHTEST SECURITY AND PRIVACY of any online vender, with the same values that has made us the best. If it's not sustainably harvested, we won't buy it or harvest it, even if it's from the Private Reserve Fields in Hawaii and India.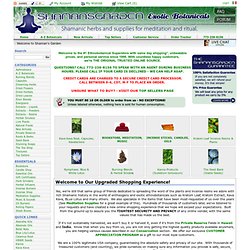 Shaman's Garden Exotic Botanicals and Psychoactive Herbs
Mis à part les dérivés du cannabis et l'opium brut, toutes les drogues sont le résultat d'une transformation qui nécessite quantité de produits chimiques, par exemple : - 1 litre d'anhydride acétique pour produire 1 kg d'héroïne - 17 litres d'éther pour 1 kg de chlorydrate de cocaïne. Si une vingtaine de produits chimiques peuvent être utilisés dans l'élaboration de la cocaïne, il est virtuellement impossible de dresser une liste limitative des produits entrant dans la composition des drogues synthétiques. Par souci de simplification, nous appellerons toutes ces substances "précurseurs", même si les techniciens opèrent une distinction entre les précurseurs proprement dits, qui entrent dans la composition chimique du produit fini et les matières chimiques essentielles qui sont des réactifs ou solvants utilisés dans le processus d'extraction des alcaloïdes d'une drogue végétale naturelle. La réglementation du commerce international des précurseurs n'est intervenue que tardivement.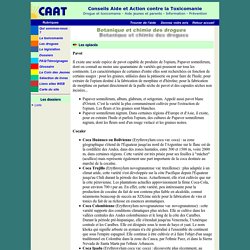 Botanique et chimie des drogues