Software
Comical
Comix is a user-friendly, customizable image viewer. It is specifically designed to handle comic books, but also serves as a generic viewer. It reads images in ZIP, RAR or tar archives (also gzip or bzip2 compressed) as well as plain image files. It is written in Python and uses GTK+ through the PyGTK bindings. [News] Comix 4.0.4 released - 2009-04-03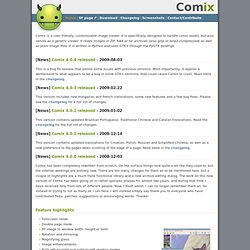 Comix - GTK Comic Book Viewer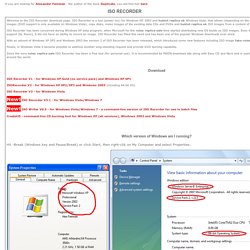 Welcome to the ISO Recorder download page. ISO Recorder is a tool (power toy) for Windows XP, 2003 and now Windows Vista, that allows (depending on the Windows version) to burn CD and DVD images (DVD support is only available on Windows Vista), copy disks, make images of the existing data CDs and DVDs and create ISO images from a content of a disk folder. ISO Recorder has been conceived during Windows XP beta program, when Microsoft for the first time started distributing new OS builds as ISO images. Even though the new OS had CD-burning support (by Roxio), it did not have an ability to record an image.
>>> Télécharger gratuitement les codecs pour windows 8 <<< Version 1.3.0 Vous avez certainement déjà tous utilisé l'un des produits performants de DiViDiX, et bien CodecPack est le renouveau de DiViDiX ! En effet, DiViDiX a été repris par CodecPack afin de vous satisfaire encore plus ! Il n'y a donc maintenant qu'une seule adresse à retenir, c'est www.codecpack.net !
DiViDiX online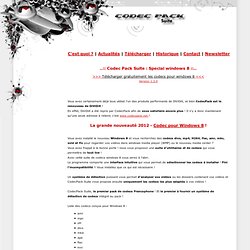 Jump to navigation Matroska Media Container - Homepage Primary tabs Welcome to the Home of Matroska the extensible, open source, open standard Multimedia container. Matroska is usually found as .MKV files (matroska video), .MKA files (matroska audio) and .MKS files (subtitles) and .MK3D files (stereoscopic/3D video). It is also the basis for .webm (WebM) files.
Matroska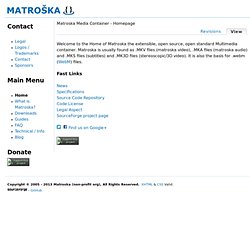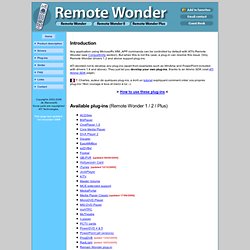 Introduction Any application using Microsoft's WM_APP commands can be controlled by default with ATI's Remote Wonder (see Compatibility section). But when this is not the case, a plug-in can resolve this issue. Only Remote Wonder drivers 1.2 and above support plug-ins. ATI decided not to develop any plug-ins (apart from examples such as WinAmp and PowerPoint included with drivers 1.4 and above). They just let you develop your own plug-ins, thanks to an Ammo SDK (visit ATI Ammo SDK page).
Remote Wonder : Plug-ins