Software
Comical. Comix - GTK Comic Book Viewer. File Hippo - Download Free Software. Page d'accueil | Mozilla Europe. ISO Recorder v 2. Welcome to the ISO Recorder download page.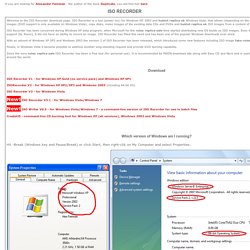 ISO Recorder is a tool (power toy) for Windows XP, 2003 and now Windows Vista, that allows (depending on the Windows version) to burn CD and DVD images (DVD support is only available on Windows Vista), copy disks, make images of the existing data CDs and DVDs and create ISO images from a content of a disk folder. ISO Recorder has been conceived during Windows XP beta program, when Microsoft for the first time started distributing new OS builds as ISO images.
Even though the new OS had CD-burning support (by Roxio), it did not have an ability to record an image. DiViDiX online. DivX.com Home Page. Matroska. Remote Wonder : Plug-ins. Introduction Any application using Microsoft's WM_APP commands can be controlled by default with ATI's Remote Wonder (see Compatibility section).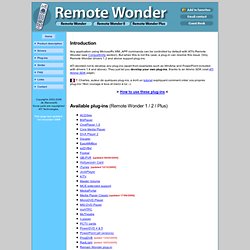 But when this is not the case, a plug-in can resolve this issue. Only Remote Wonder drivers 1.2 and above support plug-ins. ATI decided not to develop any plug-ins (apart from examples such as WinAmp and PowerPoint included with drivers 1.4 and above). They just let you develop your own plug-ins, thanks to an Ammo SDK (visit ATI Ammo SDK page).
---