Agile: All About
The Founding of the Agile Alliance. These are my own personal recollections.
I'm probably wrong about some of it. If any of the other folks involved have a clearer memory of the events, please don't hesitate to comment. In the spring of 2000 Kent Beck called a meeting at the Rogue River Lodge near his home in Medford, Oregon. He called it the . In attendance were: myself, Ron Jeffries, Ken Auer, Martin Fowler, and several others who had been instrumental in getting the XP movement off the ground.
Scrum Methodology & Agile Scrum Methodologies. Scrum.org | Training, Assessments, Certifications - Scrum.org. History: The Agile Manifesto. On February 11-13, 2001, at The Lodge at Snowbird ski resort in the Wasatch mountains of Utah, seventeen people met to talk, ski, relax, and try to find common groundand of course, to eat.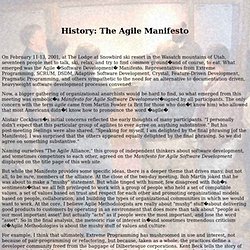 What emerged was the Agile Software Development Manifesto. Representatives from Extreme Programming, SCRUM, DSDM, Adaptive Software Development, Crystal, Feature-Driven Development, Pragmatic Programming, and others sympathetic to the need for an alternative to documentation driven, heavyweight software development processes convened.
---