Khan Biology
Secondary Active Transport in the Nephron | Biology
The Kidney and Nephron | Biology
Photosynthesis | Biology
"Gluconeogenesis is the process by which glucose is made, primarily in the liver, from non-carbohydrate sources. The body is able to make glucose from amino acids (protein), glycerol (the backbone of triglycerides, the primary fat storage molecule), and glucose metabolism intermediaries like lactate and pyruvate. " Generally speaking, our body produces glucose in the liver when we haven't had a sufficient amount of glucose intake so the body basically produces it for us, however it can only do … (more) it for so long.
Photosynthesis: Calvin Cycle | Biology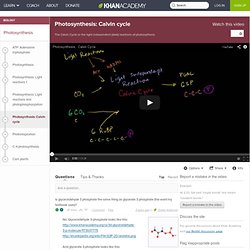 Photosynthesis: Light Reactions 1 | Biology
Photosynthesis: Light Reactions and Photophosphorylation | Biology
Photorespiration | Biology
ATP: Adenosine Triphosphate | Biology
Oxidation and Reduction in Cellular Respiration | Biology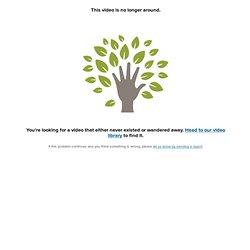 when u lose an electron there is more protons(+) than electrons(-) so the net charge is + if u gain an electron there is more electrons(-) than protons(+) so the net charge is negative Every charge (positive or negative )that loses an electron becomes more positive (or less negative). Try work it out with some numbers like I did in the first comment. Let's say a -2 charge loses a -1 charge: -2-(-1)=-1 (less negative). A +2 charge losing a -1 charge: +2-(-1)=+3 (more positive). You can try and work it out for gaining electrons.
Oxidation and Reduction Review From Biological Point-of-View | Biology
Introduction to Cellular Respiration | Biology
Krebs / Citric Acid Cycle | Biology
Glycolysis | Biology
Oxidative Phosphorylation and Chemiosmosis | Biology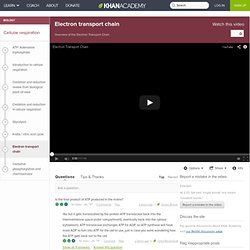 Electron Transport Chain | Biology
the water we drink and the water thats expelled after the ETC are different. The water we drink is a catalyst for the Hydrogens as they are pulled back down the concentration gradient. the Hydrogens bond to the Oxygen (which is the reason why we breathe)we need this oxygen to bond with the hydrogen so we can expell it from our body. Otherwise the Hydrogens back up, and stop the pump, and ATP stops being produced,,,, and we die (or that part of the body that is cut off from oxygen dies).