I.Short
DVD
Cortometraje God Of Love (Díos Del Amor) (2010) | Cortometrajes.org
Gratte Papier
NO ME AMA (SHE DOESN'T LOVE ME) on Vimeo
Vicky and Sam by Nuno Rocha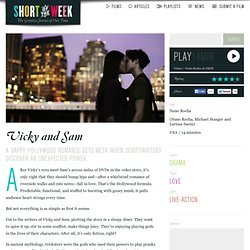 A sappy Hollywood romance gets Meta when scriptwriters discover an unexpected power. A fter Vicky's eyes meet Sam's across aisles of DVDs in the video store, it's only right that they should bump hips and—after a whirlwind romance of riverside walks and cute notes—fall in love. That's the Hollywood formula. Predictable, functional, and stuffed to bursting with gooey mush, it pulls audience heart strings every time.
Alcoholic Faith Mission - Legacy
Love is like... on Vimeo
HAT, MAX & LAURA BRAUN on Vimeo
no quiero volver solito - corto gay sub en español
Mr. Foley on Vimeo
Big Range
Lowland Fell on Vimeo
BANG ADS & MEDIA
"ViL, Los efectos de las causas" parte 2
"ViL, Los efectos de las causas" parte 1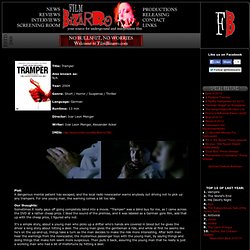 Your source for underground and independent film.
Plot: A dangerous mental patient has escaped, and the local radio newscaster warns anybody out driving not to pick up any trampers. For one young man, the warning comes a bit too late. Our thoughts: Sometimes it really pays off going completely blind into a movie. "Tramper" was a blind buy for me, as I came across the DVD at a rather cheap price.
Hirsute on Vimeo
An Créatúr