Vocabulary practice and Study groups
Maktos: Japanese Is Possible! Don't be shy!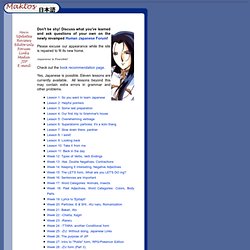 Discuss what you've learned and ask questions of your own on the newly revamped Human Japanese Forum! Please excuse our appearance while the site is repaired to fit its new home. Japanese is Possible! Untitled. Minna No Nihongo 1 and 2 Voc Quiz. Videos s2. Learning Japanese Language Games, Free japanese alphabet symbols.
Japanese 'cheatsheets' & Study guides
JLPT Level Check - Test your Japanese vocabulary, kanji and gram. Renshuu.org - Japanese studying made for you! Lang-8 - Multi-lingual language learning and language exchange.
---