Inane Amusements
Draw a Stickman. 10 best alternative operating systems. Right now, someone, somewhere is developing the killer operating system feature of the future - a feature that will change computing and make us wonder how we lived without it.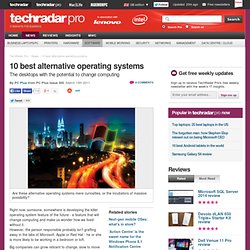 However, the person responsible probably isn't grafting away in the labs of Microsoft, Apple or Red Hat - he or she is more likely to be working in a bedroom or loft. Big companies can grow reticent to change, slow to move and adopt new technologies. Features must be escalated through approval bodies, management and bean-counters. Hobbyist projects don't have those commercial pressures and can experiment freely. It might seem audacious to claim that the next Windows is cooking in some part-time coder's house, but it's nothing new. Clay Yourself! | A Hotels.com Production. Animation/Cartoons. The Amazing Skidboot. The NeoCube 01.
Gyro the Cube. 3D Printer. Danny Kaye & Harry Belafonte - Hava Naguila - Show TV Danny Kaye. Danny Kaye Show - The Thinker. Danny Kaye Show - British Intelligence. Optical Illusions and Visual Phenomena. Bitstrips - Welcome! TOMA - Internet TV. Sort order Sort by: TV filter Country: Language: Category:
Arsenic-Based Life. Movie Maker. Make your own LOL - Cheezburger.com.
Anime
Imagination - Play with beautiful wobbly lines.
---