Data Visualization
Opinion meter
In October, 2010, during the Personal Democracy Forum in Barcelona, several investigative journalists explained how they managed to uncover corruption using network analysis. One of them, Dejan Milovac, wrote a story about a construction project on the Montenegrin coastline.
Influence Networks: The six degrees of investigative journalism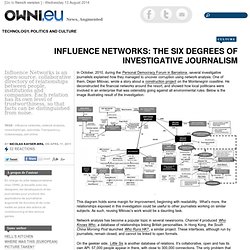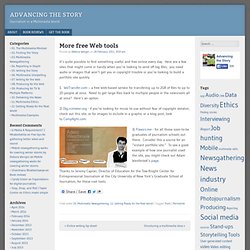 It's quite possible to find something useful and free online every day.
More free Web tools
Every journalist needs to know about data. It is not just the preserve of the investigative journalist but can – and should – be used by reporters writing for local papers, magazines, the consumer and trade press and for online publications. Think about crime statistics, government spending, bin collections, hospital infections and missing kittens and tell me data journalism is not relevant to your title.
Blog Archive » 10 things every journalist should know about data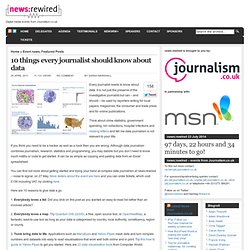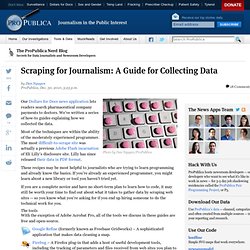 Photo by Dan Nguyen/ProPublica
How to: get started in data journalism using Google Fusion Tables | How to succeed in journalism
An intensity map showing the population density for different ethnic groups in Texas What is it?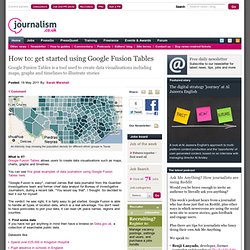 Journalists' Toolkit
Try out the newest version of IBM Many Eyes! New site design and layout Find visualization by category and industry New visualization expertise and thought leadership section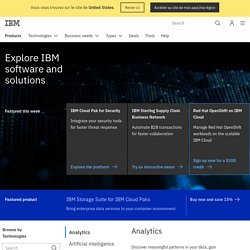 Data Visualisation Stuff
ddo
With more and more civic data becoming available and accessible, the challenge grows for policy makers and citizens to leverage that data for better decision-making. It is often difficult to understand context and perform analysis.
Data Visualization Platform, Weave, Now Open Source | Civic Commons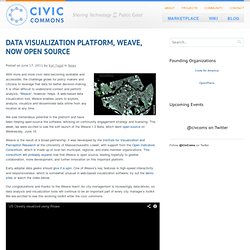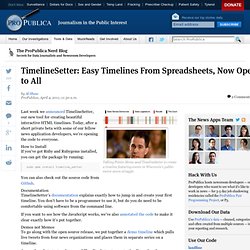 TimelineSetter: Easy Timelines From Spreadsheets, Now Open to All
Talking Points Memo used TimelineSetter to create a timeline featuring events in Wisconsin's public-sector union struggle.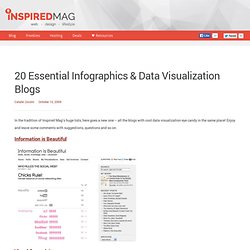 If you're new on INSPIRED [the web design lifestyle mag], you may want to subscribe to our RSS feed & Newsletter for extra goodies. Thanks for visiting! In the tradition of Inspired Mag's huge lists, here goes a new one – all the blogs with cool data visualization eye candy in the same place!
2010-Narrative-InfoVis.pdf (application/pdf Object)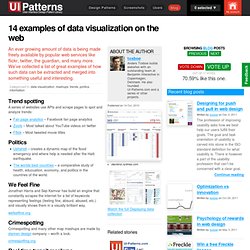 Trend spotting A series of websites use APIs and scrape pages to spot and analyze trends: Fan page analytics – Facebook fan page analytics Zoofs – Most talked about YouTube videos on twitter Fflick – Most tweeted movie titles
14 examples of data visualization on the web
3 Tips for Engaging Online Communities with Data Visualization
Data visualization is a medium for understanding information that had previously been the domain of scientists and researchers. Today, due to the amount of data available, there is an increasing need to find new ways of understanding what information means that is available through social networks and throughout the Web. Engaging Online Communities is a report we published this week that explores ways to engage with customers. It looks at the tools available to engage, collect and analyze information.
In our last post on data journalism, we ran across a number of tools that would be helpful for anyone who is interested in how to make sense of data. The tools represent a renaissance in how we make sense of our information culture. They provide context and meaning to the often baffling world of big data. This is a snapshot of what is available. We are relying on the work done by Paul Bradshaw, whose blog is an excellent source about the new world of data journalism. Factual