Computers, Sites, & Apps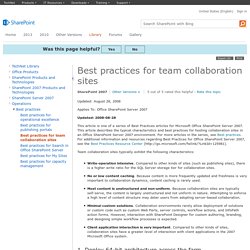 Updated: 2008-08-28 This article is one of a series of Best Practices articles for Microsoft Office SharePoint Server 2007. This article describes the typical characteristics and best practices for hosting collaboration sites in an Office SharePoint Server 2007 environment.
Best practices for team collaboration sites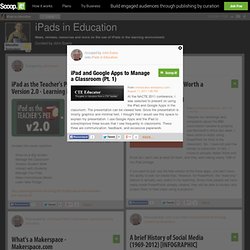 "To describe them simply, makerspaces are community centers with tools. Makerspaces combine manufacturing equipment, community, and education for the purposes of enabling community members to design, prototype and create manufactured works that wouldn't be possible to create with the resources available to individuals working alone. These spaces can take the form of loosely-organized individuals sharing space and tools, for-profit companies, non-profit corporations, organizations affiliated with or hosted within schools, universities or libraries, and more.
iPad and Google Apps to Manage a Classroom (Pt. 1) | iPads in Education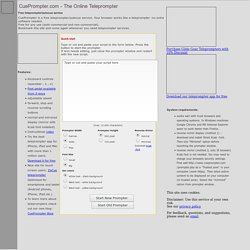 Foot pedal for Cueprompter System requirements: works well with most browsers and operating systems. In Windows machines Google Chrome and MS Internet Explorer seem to work better than Firefox. reverse mirror display (method 1) : download and install Strait Kcab -font. Then tick "Mirrored" option before launching the prompter window. reverse mirror (method 2, only IE browser) Kcab font is not needed.
Video tools, apps, and sites
Productivity Sites and tools
Think Quarterly
Interesting Apps and sites
Uh-Oh, I didn't know they could do that!