Computers, Sites, & Apps
Best practices for team collaboration sites. Updated: 2008-08-28 This article is one of a series of Best Practices articles for Microsoft Office SharePoint Server 2007.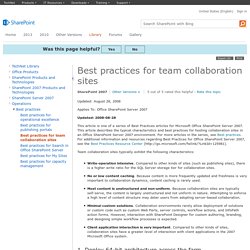 This article describes the typical characteristics and best practices for hosting collaboration sites in an Office SharePoint Server 2007 environment.
Excel Tutorials
Visual Basic Tutorials. iPad and Google Apps to Manage a Classroom (Pt. 1) | iPads in Education. Free online teleprompter. Video tools, apps, and sites. Audio apps and sites. Social Networking. Productivity Sites and tools. Think Quarterly.
Data Visualization. Graphic Art's programs. Interesting Apps and sites. Uh-Oh, I didn't know they could do that! Programming. Lecture, Youtubes, etc.
---