Transmedia
Get flash to fully experience Pearltrees
A l'initiative de la Sorbonne Nouvelle – Université Paris 3 et avec le soutien du Transmedia lab d'Orange, le Centre Pompidou recevait vendredi 25 mai dernier Henry Jenkins, pour une conférence sur le Transmedia Storytelling : » Engagement, participation, play : the value and meaning of Transmedia audiences « . Organisée par Eric Maigret (Professeur à Paris 3) et Mélanie Bourdaa (MCF à Bordeaux 3), cette rencontre a permis à Henry Jenkins d'expliquer sa vision des stratégies transmedia et des engagements des publics. Nous vous proposons un retour d'expérience par Mélanie Bourdaa et Aurore Gallarino.
« Martinique: l'île mystérieuse » est une nouvelle expérience interactive qui combine fiction, animation, documentaires et guide de voyage sur un même site Web relayée et enrichie sur d'autres médias. Cette approche novatrice mêle aventure, mystère et mini-jeux en laissant l'utilisateur choisir les parcours et les sites où il enverra les personnages, préparant ainsi son séjour et aiguisant sa curiosité. si le Web est un média central indispensable pour toucher le plus grand nombre de visiteurs préparant leur séjour, l'histoire est relayée sur place par d'autres médias: édition, presse (France‐Antilles), cartes-itinéraires proposées par les loueurs de voitures, indices à trouver sur les lieux des sites mis en scène, radios locales, série TV, ainsi qu'une application iPhone que les participants pourront télécharger avant leur départ etc.
The above video was shot by Scott Walker during one of my presentations at San Diego Comic-Con, during which I spoke about some of the controversy which has surrounded the definition of transmedia over the past six months or so. I've largely stayed out of these conversations, though you can find a very good summary of the debates here . I've been focusing on other projects and also I've been more interested in the shapes these discussions take than seeking to intervene in them directly, but over the summer, in a range of venues, I've been pushing and proding at my own definitions to see if I can capture some of my own shifting understandings of transmedia, especially as I am preparing to teach a revamped transmedia entertainment class at USC. Today, I am going to try to put some of this still evolving thinking into writing in hopes that it helps others sort through these issues.
Transmedia storytelling is the future of communication—an organic outgrowth of new media technologies and the shifting psychologies surrounding them. A deep understanding of transmedia storytelling is a must for advocacy organizations, social entrepreneurs, corporations and entertainment entities so that they can communicate effectively in this new environment. The challenge for communicators is to overcome the urge to stick with the old intrusive, one-to-many, linear media model with passive receivers. Effective communicators must adopt the new model— many-to many, multi-dimension, and multi-authored—that invites. Doing so provides dimension and vitality, and the ability to reach individuals and groups on unprecedented levels.
I finally met Lucas in person at the Storyworld Conference. He is a lovely and intelligent young man with a lot of passion for his craft. Although we could tell this with his active postings at his company blog, Silverstring Media, he is even better in person. Now Lucas has generously offered to share some [...] Posted by admin on November 16, 2011 in Development , Financing , Pitching | ∞
En attendant le retour de la série « Game of Thrones » , actuellement en tournage et diffusée dès le 1er Avril, nous vous proposons un décryptage du storytelling transmedia imaginé autour de la première saison. L'agence Campfire sollicitée pour l'occasion, a ainsi scénarisé une étonnante expérience sensorielle autour du Royaume des Sept Couronnes . Nous vous présenterons également l'extension de l'univers sur la plateforme de Social TV, Miso .
When Campfire's Steve Coulson set out to create an immersive experience around the HBO production of George R. R. Martin's Game of Thrones , he faced a now-familiar problem: How to simultaneously generate buzz for the show, introduce the story to a new audience, and provide a deeper level of engagement for fans of the book.
Tyrion Lannister is a Man with a Plan (via Frank Rose ) Unless you've been hiding out on the moon or under a very large , heavy object for some time, you might have well heard of the big chunk of fantastical fun that is HBO's Game of Thrones series. Behold, those in the know: the fun hasn't stopped with the book series turned television series– ho ho, NO — as Campfire NYC has deftly wielded its mighty storytelling skills to transcend the traditional with a transmedia campaign at the core of its marketing push. Marketing agency Campfire gave Steve Coulson and their resident band of brainiac's the mission of creating a transmedia campaign for HBO's epic series Game of Thrones .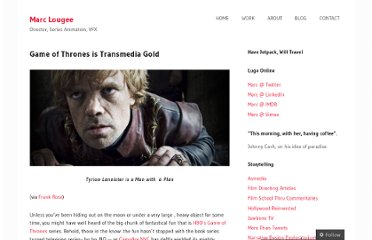 J'ai été invité à participer à une discussion sur les Jeux en Réalité Alternée qui se déroulait dans le cadre de VIA.Pro 2011/ Happy Digital ? . Cette manifestation organisée par le Manège centre d'Arts de la Scène transfrontalier de Mons (Belgique) et Maubeuge (France) est « un moment convivial qui privilégie l'échange entre artistes, chercheurs et opérateurs culturels, afin de décomposer et analyser ensemble les frictions des technologies avec les arts de la scène ». Cette manifestation est suivie de VIA, la partie publique du festival.