Définition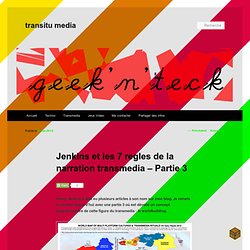 Jenkins et les 7 regles de la narration transmedia – Partie 3 | Transitumedia.com
Henry Jenkins a déjà eu plusieurs articles à son nom sur mon blog. Je remets le couvert aujourd'hui avec une partie 3 où est dévoilé un concept supplémentaire de cette figure du transmedia : le worldbuilding. Who is Mr Jenkins? Contextualisons un peu pour les noobz qui viendraient à lire ma prose.
On a longtemps pensé la convergence numérique comme la "fusion" d'appareils jusque-là très différents : le téléphone, la télévision, l'ordinateur et la chaîne hi-fi ne faisant plus qu'un, fédérés par l'internet. Même si, au final, on a plus souvent constaté une divergence qu'une convergence : la multiplicité des terminaux induisant une multiplicité d'usages. La connexion de tout avec tout conduit plutôt à une complexification qu'à une rationalisation, expliquait déjà Daniel Kaplan en 2006.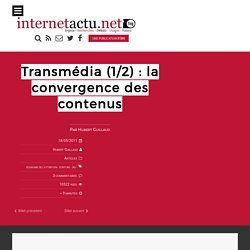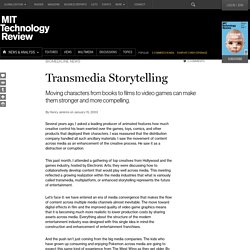 Several years ago, I asked a leading producer of animated features how much creative control his team exerted over the games, toys, comics, and other products that deployed their characters. I was reassured that the distribution company handled all such ancillary materials. I saw the movement of content across media as an enhancement of the creative process. He saw it as a distraction or corruption.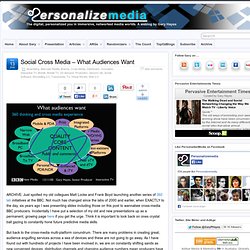 Social Cross Media – What Audiences Want
ARCHIVE: Just spotted my old collegues Matt Locke and Frank Boyd launching another series of 360 lab initiatives at the BBC. Not much has changed since the labs of 2000 and earlier, when EXACTLY to the day, six years ago I was presenting slides including those on this post to wannabee cross-media BBC producers. Incidentally I have put a selection of my old and new presentations up as a permanent, growing page here if you get the urge.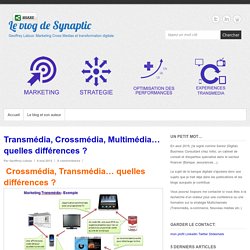 Parmi les « nouvelles » tendances en marketing que l'on voit apparaître ces derniers temps, on parle beaucoup de récit Transmédia ou de marketing Crossmédia, comme il n'est pas toujours simple de faire la différence entre les deux nous vous livrons ici notre tentative de définition. CrossMédia Le Crossmédia est bien antérieur au web puisqu'il consiste à transposer un même contenu narratif sur différents médias. Un exemple : on peut prendre connaissance des aventures de Harry Potter en lisant le livre, en regardant le film, en écoutant l'audio livre ou en lisant la bande dessinée.
DRAFT - August 16, 2011 What's in a name? Well, apparently, a lot, depending on whom you talk to and on what day and about what project.... Such is a major issue right now with Transmedia and related projects; trying to find a common language. Here are a few articles and ideas on the general subject of trying to identify different type of projects.
Crossmedia or Transmedia or ???? - does a common language exist? - Transmedia Resources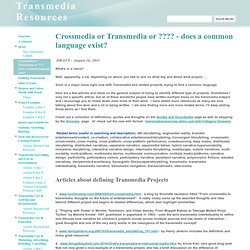 I've been seeing and thinking recently a lot about the terms: cross-media storytelling transmedia storytelling immersive storytelling distributed storytelling As I read about these terms, they all seem to be talking about roughly the same thing.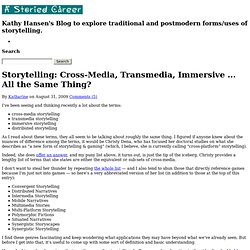 Storytelling: Cross-Media, Transmedia, Immersive ... All the Same Thing?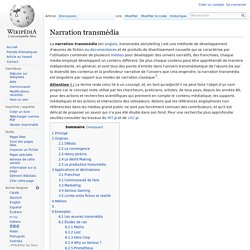 Un article de Wikipédia, l'encyclopédie libre. La narration transmédia (en anglais, transmedia storytelling) est une méthode de développement d'œuvres de fiction ou documentaires et de produits de divertissement qui se caractérise par l'utilisation combinée de plusieurs médias pour développer des univers narratifs, chaque média employé développant un contenu différent. Principe[modifier | modifier le code] La narration transmédia se différencie du cross-média qui décline un contenu principal sur des médias complémentaires.