Diagnoze
Nijolė Nij
Math Humor
Top 10 Excuses for Not Turning in Math Homework 10. It's Isaac Newton's birthday. 9.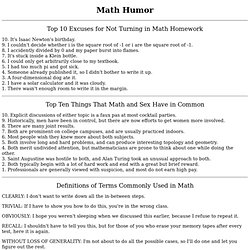 World Wide Fred - Fred & Friends
New Arrivals
Anonymous Says: June 11, 2011 6:53 PM They are truly unique. Anonymous Says: June 12, 2011 2:08 PM Only one or two of these are inventions. The rest are things that have existed for years that somebody felt like stylizing.