Galleries
Abstract Digital Art and Fractals Gallery Visionary digital and fractal art representing the new vibration of cosmic evolution. <A HREF="http://ws.amazon.com/widgets/q?rt=tf_cw&ServiceVersion=20070822&MarketPlace=US&ID=V20070822%2FUS%2Ficonoclastpre-20%2F8010%2Fd6c2d8a1-a235-4a5d-83fa-a12f463f8a0a&Operation=NoScript">Amazon.com Widgets</A> <A HREF="http://ws.amazon.com/widgets/q?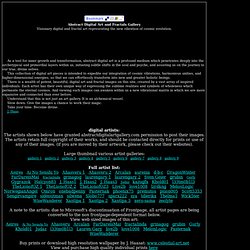 Digital art gallery - Abstract Digital Art Gallery and fractals
Glasgalerie Hittfeld
Marek Fisar Mold Melted Glass Sculptures The emergence of Marek Fisar's seemingly innate talents to freely make his expression with glass should come as no great surprise, as he was born into a world with both parents Eliska Rozatova and Jan Fisar, well established as artists working in the glass medium. In its formative stages, Fisar's process always begins with some central idea from his collection of thoughts. More often than not, these ideas find root in naturally occurring forms and textures from the real world. As the piece develops, he sometimes allows a divergence to occur if serendipity results from the brutal kiln environment. This combination of studied manipulation and relinquished control finds its success only through the artist's personal judgment and selectivity.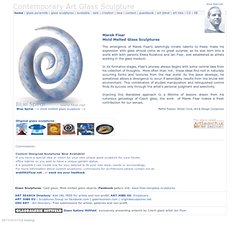 GLASS SCULPTURES - Contemporary Art Glass Sculpture. Unique mold melted Glass Sculptures sale. Sculptor / glass artist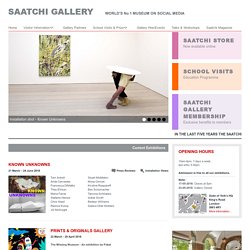 Jon Rafman: The Nine Eyes of Google Street View 26 July - 3 September, 27 September - 7 October, 14 October - 4 November In 2007 Google sent out an army of hybrid electric automobiles, each one bearing nine cameras on a single pole. Armed with a GPS and three laser range scanners, this fleet of cars began an endless quest to photograph every highway and byway in the free world.
Services > Places to visit > Český Krumlov > Cultural amenities > Galleries Široká 71 38101 Český Krumlov Contact: Hana Jirmusová, ředitelka Egon Schiele Art Centra Telephone: +420 380 704 011 Fax: +420 380 711 191 E-mail: office@schieleartcentrum.cz WWW: www.schieleartcentrum.cz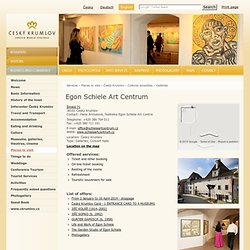 Egon Schiele Art Centrum