Educacion 2.0
Weeras és una plataforma multieditorial, modular i escalable que permet accedir a continguts digitals, treballar amb comunitats educatives amb qui compartir informació, experiències i recursos, i fer tasques de gestió de centre mitjançant mòduls específics d'administració. Mitjançant els diferents mecanismes de comunicació interna i interacció proporcionats per la plataforma, es vol fomentar la creació d'una comunitat rica i dinàmica.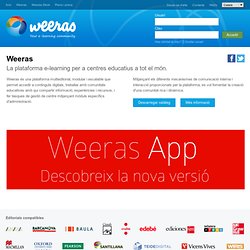 Comunitat Educativa
..:: TICTAC ::..
Guía para la creación de materiales educativos interactivos
SOLO TIPS
Jueves 20 de marzo 2014 - Estadio Nacional de Lima. El segundo paso de la banda norteamericana Metallica por nuestro país, no solo dejó contento a miles de fanáticos del "trash metal", sino que la misma sensación lo habrían experimentado los organizadores debido a las cifras que dejó el evento. Al concierto en el Estadio Nacional acudieron unas 29.364 personas. Un equipo de 42 fedatarios fiscalizadores de la Sunat se encargó de realizar el conteo de las entradas por tipo de localidad vendida y verificar el precio correspondiente de cada una. Con la referida cifra, los ingresos por ventas de entrada superaron los cinco millones de soles, según informó la Sunat. Asimismo, la relación de los controles efectuados a los 22 concesionarios que operaron durante el evento así como la venta de sus productos, reportó un monto superior a S/.130.000 en ganancias por alimentos y bebidas que consumieron los asistentes al concierto.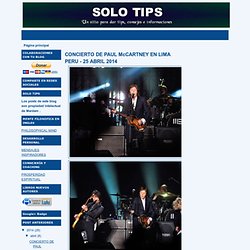 Improving Teaching and Learning using ICT Tools by Reeve Waugh on Prezi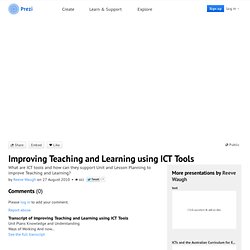 Unit Plans Knowledge and UnderstandingWays of Working And now...Some ICT Tools... 1. Free Learning Place ICT Tools Integral ICTs Energise Your support with human resources Be on thelookout for new ideas! Assessable Elements Teaching & Learning Sequence Choose the ICT to suit the purpose!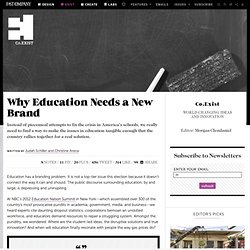 Education has a branding problem. It is not a top-tier issue this election because it doesn't connect the way it can and should. The public discourse surrounding education, by and large, is depressing and uninspiring.
Why Education Needs a New Brand
Welcome to the MapMaker Interactive This tutorial explains how to explore National Geographic Education's interactive GIS mapping tool and tools for customizing outline maps for print. Use the zoom bar to go from a world view to a local view (or in cartographic terms, from a large scale to a small scale). If you zoom out to a world view, you will see that the map is in a Mercator projection.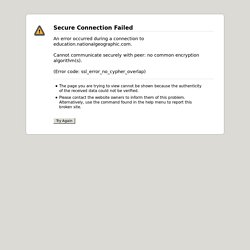 A Nice Guide to iPad App Evaluation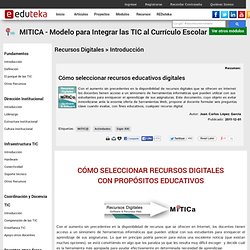 Con el aumento sin precedentes en la disponibilidad de recursos que se ofrecen en Internet, los docentes tienen acceso a un sinnúmero de herramientas informáticas que pueden utilizar con sus estudiantes para enriquecer el aprendizaje de sus asignaturas. Lo que en principio podría parecer para estos una excelente noticia (que existan muchas opciones), se está convirtiendo en algo que los paraliza ya que les resulta muy difícil escoger y decidir cuál es la herramienta más apropiada para ayudar efectivamente en determinada necesidad de aprendizaje. Para manejara esta situación, con frecuencia encontramos libros, cualificaciones docentes o sitios Web que proponen listados de herramientas con potencial de alto impacto en procesos educativos.
Datamedios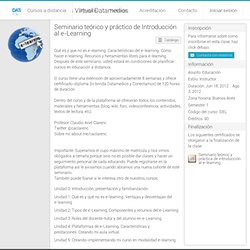 Información Asunto: Educación Estilo: Instructor Duración: Jun 18, 2012 .. Ago 3, 2012 Zona horaria: Buenos Aires
Esta entrada está escrita con la intención de presentar un texto de reflexión que nos ayude a entender y debatir sobre cuáles debieran ser las funciones docentes de cualquier agente o profesional que desarrolle actividades formativas, más o menos formales, apoyadas en recursos, plataformas y/ o proyectos del ecosistema digital. Para ello utilizo tres metáforas que están difundiéndose con relación a los productores y mediadores del conocimiento en los espacios de la cibercultura y que pueden ser útiles para identificar las acciones docentes en los entornos digitales de aprendizaje. El planteamiento que defiendo, desde hace tiempo, al igual que desarrollan muchos otros colegas que pueden encontrar en la blogosfera, es alertar de que la incorporación de las TIC a la enseñanza –sea en la escuela, en la universidad o en la formación continua- debe mirar más allá de las tecnologías y no conformarse con realizar una pequeña innovación o cambio cosmético de las prácticas docentes habituales.
ORDENADORES EN EL AULA: Metáforas del docente 2.0: DJ, Curator, Community Manager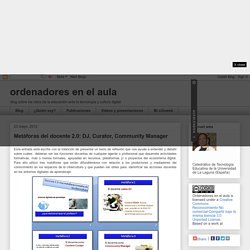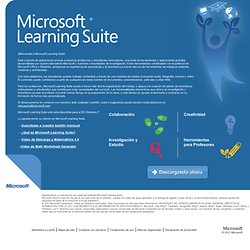 ¡Bienvenido a Microsoft Learning Suite! Este conjunto de aplicaciones provee a nuestros profesores y estudiantes innovadores, una serie de herramientas y aplicaciones gratuitas desarrolladas por nuestro laboratorio Microsoft y nuestras comunidades de investigación. Estas herramientas combinadas con la potencia de Microsoft Office y Windows, enriquecen la experiencia de aprendizaje y la enseñanza a través del uso de herramientas tecnológicas potentes, creativas y entretenidas. Con esta plataforma, los estudiantes pueden trabajar contenidos a través de una variedad de medios incluyendo audio, fotografía, música y video. El contenido puede combinarse a partir de cualquiera de estas fuentes en documentos, presentaciones, películas o sitios Web.
Learning Suite -- Microsoft® Learning Suite combina aplicaciones familiares y software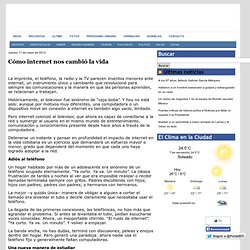 La imprenta, el teléfono, la radio y la TV parecen inventos menores ante internet, un instrumento único y cambiante que revolucionó para siempre las comunicaciones y la manera en que las personas aprenden, se relacionan y trabajan. Históricamente, el televisor fue sinónimo de "caja boba". Y hoy no está solo: aunque por motivos muy diferentes, una computadora o un dispositivo móvil sin conexión a internet es también algo vacío, limitado. Pero internet colonizó al televisor, que ahora es capaz de conectarse a la red y sumergir al usuario en el mismo mundo de entretenimiento, comunicación y conocimientos presente desde hace años a través de la computadora. Detenerse un instante y pensar en profundidad el impacto de internet en la vida cotidiana es un ejercicio que demandará un esfuerzo mayor o menor, grado que dependerá del momento en que cada uno haya logrado adoptar a la red.
Cómo internet nos cambió la vida - Baradero Te Informa
XARXES SOCIALStot sobre...tot?maig de 2012@perecornellaXARXES SOCIALSon som?què són?quines hi ha?
Tot sobre les xarxes socials... tot? by Pere Cornellà Canals on Prezi
foto: Paco Gallo La Ópera, un Vehículo de Aprendizaje (LÓVA) is a project implemented by classroom teachers during the full school year. The teacher turns her/his classroom into an opera company and the company creates from scratch its own opera. Students choose one of ten jobs and through teamwork they write the libretto, build the lights, create the set, write the music, collect funds, act, sing, create a blog and many other things. The goal of LOVA is to create an environment where learning is meaningful, important and exciting for every student in the class. During the performance students are on their own and the teachers or any other adults stay seated and watch.
La Ópera, un Vehículo de Aprendizaje
e-co.jpg (1152×864)
ChronoZoom is an educational tool for teachers and students who want to put historical events in perspective. A great many resources have been created already in ChronoZoom for your enjoyment and enlightenment. Start Exploring Use ChronoZoom to get a perspective of the extensive scale of time and historical events relative to what happened around the world. Become an author yourself! Simply log on with your social networking credentials to record your unique perspective or tell a story that needs to be told.
ChronoZoom
auula.com
Culture Digital Tools Teaching Strategies This week, we feature the most popular posts of the year on MindShift. In today's dynamic classrooms, the teaching and learning process is becoming more nuanced, more seamless, and it flows back and forth from students to teachers. Here's a look at current trends in teaching and learning, their implications, and changes to watch for. The Three Key Trends
MIT Understanding Lasers and Fiberoptics full course by MIT Lasers are essential to an incredibly large number of applications. Today, they are used in bar code readers, compact discs, medicine, communications, sensors, materials processing, computer printers, data processing, 3D-imaging, spectroscopy, navigation, non-destructive testing, chemical processing, color copiers, laser "shows", and in the military.
in Education
Apple iTunes U hands-on (video)