Authors
Kerrelyn Sparks - www.kerrelynsparks.com - Romance Author
R.G. Alexander
New York Times Best Selling Author, victorialaurie.com Home
Kris Tualla
Romance E-books by Felicity Heaton / F E Heaton, specialising in Paranormal Romance Books and Science-Fiction Romance Books
Alexandra Ivy, Author
Nalini Singh :: NYT bestselling author
Nina Bangs | Paranormal Romance Author
Homepage for Lacey Alexander
Ciana Stone
Welcome to Kimberly Raye.com
The Bewitching Mysteries: All the books, in order of release. Covers, excerpts, special info, the works. ;> Bio: In other words, it's all about me, me, me . . .
Madelyn Alt
Shelly Laurenston
Larissa Ione – Paranormal Romance Author
My mother remembers an 8-year-old me setting up my "writing office" in our living room by putting her old manual typewriter on the couch next to a toy phone. And I (very slowly) pecked out the story of my third-grade class taking a trip around the world and losing a kid in each city. I had a dark sense of humor, even then. In high school, when other girls my age were writing poems about dying unicorns and bleeding roses, I was writing essays about having political arguments with my dad at the dinner table.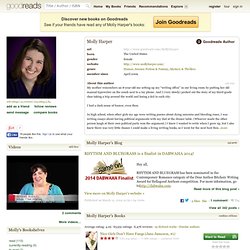 Molly Harper (Author of Nice Girls Don't Have Fangs)
Falling For Tiffany
J.C. Wilder / Dominique Adair
Welcome to my world . . . Why vampires? Two of the most powerful human emotions are fear and desire. They rule many of our actions when we're awake, and they inspire the most vivid dreams when we're asleep. The intrigue of the vampire through the ages has been the twining of these two emotions--we fear him, yet his darkness is the very thing that makes him so compelling, so incredibly desirable. We can never be sure if we're completely safe with him, yet we can't stay away.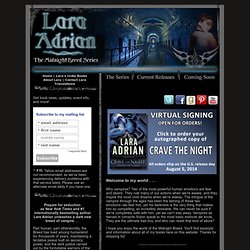 Lara Adrian | The Midnight Breed | Vampire Romance Series
Denise A. Agnew - A Love to Die For...
DarkErotica.Net
Jennifer Ashley, Romance Writer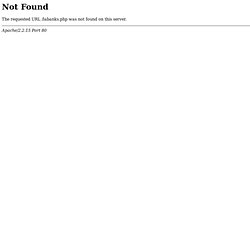 L.A. Banks, Paranormal Author
A Neteru—a hunter or a heroine—is born every thousand years to lead the Warriors of Light as they fight against the Dark Realms. Damali Richards is the millennium Neteru, the one who will play a pivotal role in the Final War. The Warriors of Light have been waiting for her and the Dark Realms will do anything to possess or destroy her. What they do not take into account is the man who will love her. Damali has been to Hell and back—literally—and she is not eager to repeat the trip. A Vampire civil war has been averted, but there were casualties, and she believes that Carlos Rivera, her former lover turned master vampire, is one of them.
Laurell K Hamilton | Laurell K Hamilton
Jaci Burton - New York Times Bestselling Author
P.C. Cast | Home
Gena Showalter's fan site
Jennifer Crusie | New York Times Bestselling Author
Bianca D'Arc - Futuristic, Paranormal, Science Fiction and Fantasy Romance
Michelle M. Pillow, Official Site
National Bestselling Author Lauren Dane
Welcome to DelilahDevlin.com!
Drake Series Home Page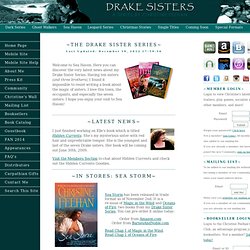 Inscriptions on the bottom of the gates: septem fio unus ut iunctus (Latin) I sette sono diventa! ti uno quando uniti (Italian) the seven become one when united (English) These things say she Who holds the gifts of the seven Who walks at twilight Holding the seven golden lamps Seven sisters intertwined Controlling elements of air, land and sea Cannot control the fate they flee One by one, oldest to last, destiny shall claim them When the locked gate swings open in welcome The first shall find true love As the sisters stand in wonder At what destiny has done Within each sisters heart now beats passion While love turns as a key By the time the year is ended Each will follow thee Remember therefore from whence you came Knowing that in the end it is the seventh That will renew the line again Seven daughters of a seventh daughter
Some of the praise for Frank, some of it by other authors you may know and love: "I loved this book!" —Christine Feehan on JACOB: The Nightwalkers: Book 1 "A fresh new voice. A stunning new talent."
Official Website for author Jacquelyn Frank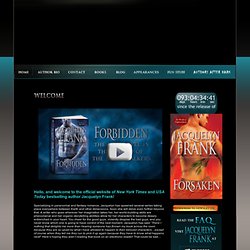 Frost Light |
Charlaine Harris Official Website
Rachel Gibson - Romance Author
Kresley Cole | Paranormal Romance Author
Lori Handeland
ERIN KELLISON > HOME :: erinkellison.com, where dark fantasy meets modern fairy tale
Kim Harrison's web site
Treva Harte
Storywitch.com - The Writings Of Joey W. Hill
Desiree Holt
Excerpt: Vicci tried to stifle her sigh. The large black room reminded her uncannily of an enormous box. Multi-colored strobe lights lit up the stage, where a band of bored-looking, barely pubescent young men made very loud noises supposedly singing yet another of their songs. As Vicci couldn't distinguish one "song" from the next, she had long ago filtered out the noise.
Website of author Elizabeth Lapthorne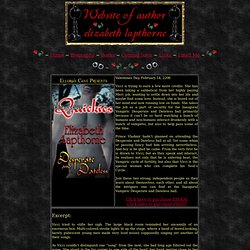 amandaquick
JR Ward - Best Selling Paranormal Romance Author
Marie Treanor
MaryJanice Davidson
Read Kathy Love - Romance Author
Olivia Cunning Home
Anne Stuart | Award Winning Author
Erin McCarthy
Vicki Lewis Thompson I NYT Bestselling Author: Hot Heroes...Happy Endings
Anya Bast
Sherrilyn Kenyon | The Official Site of the #1 New York Best Selling Author
Eve Langlais -- Canadian Romance Author
Welcome to KatieMacAlister.com!
Look! It's Gini Koch's Webpage
Cheyenne McCray, New York Times Bestselling Author