ReadNow
Why you should upgrade to VMware Workstation 7
Software companies release upgrades, it's a fact of technology life. Sometimes the older version works just fine, other times upgrading can provide benefits that are more than worth the upgrade. Upgrading to Workstation 7 offers both increased performance and Windows 7 support, both of which are lacking in Workstation 6.
Batteries - ThinkPad X300 Series
Lenovo battery to be purchased... by dhananjayk Jan 7
Optimization of applications should not be a final step in project development, but rather an ongoing design philosophy that begins from the planning stages all the way through completion. By thinking about the optimal algorithms and data structure designs early on, greater performance benefits can be realized with less work by the time the product is mature. But, getting into this mindset requires being aware of everything from computational complexity of algorithms, to the data structure design and implementation, and the proper use of parallelization.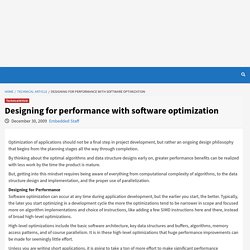 Designing for performance with software optimization
A new approach to improving system performance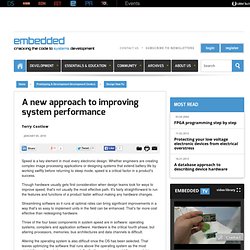 Speed is a key element in most every electronic design. Whether engineers are creating complex image processing applications or designing systems that extend battery life by working swiftly before returning to sleep mode, speed is a critical factor in a product's success. Though hardware usually gets first consideration when design teams look for ways to improve speed, that's not usually the most effective path. It's fairly straightforward to run the features and functions of a product faster without making any hardware changes.
January 6, 2010, 11:13 PM PST Takeaway: Lexmark has won a CES Innovations award for the Platinum Pro905 Inkjet All-in-One, whose best feature is that its black ink cartridge costs just $4.99.
Lexmark wins CES award for all-in-one printer with $5 ink cartri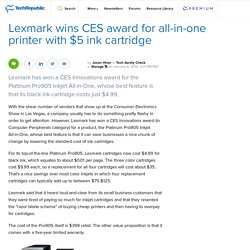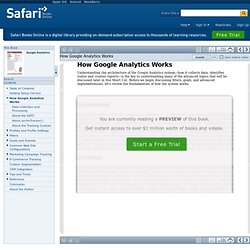 Table of Contents
O'Reilly - Safari Books Online: Google Analytics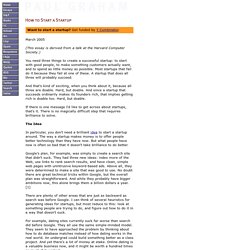 March 2005
http://adcontent.reedbusiness.com/chipzlinks/CLPA-1805.pdf
RS-232 to wireless: Aaxeon Airolinx BTS-1000A Bluetooth to RS-23
Braille without borders
Prudent Investor
The page you are looking for might have been removed, had its name changed, or is temporarily unavailable. Please try the following: Make sure that the Web site address displayed in the address bar of your browser is spelled and formatted correctly.
In C and C++, it can be very convenient to allocate and de-allocate blocks of memory as and when needed. This is certainly standard practice in both languages and almost unavoidable in C++. However, the handling of such dynamic memory can be problematic and inefficient. For desktop applications, where memory is freely available, these difficulties can be ignored. For embedded - generally real time - applications, ignoring the issue is not an option.
Deterministic dynamic memory allocation & fragmentation in C & C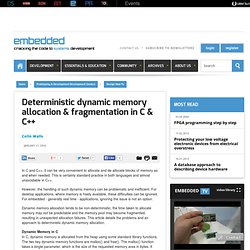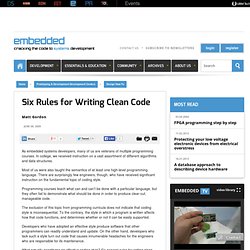 Six Rules for Writing Clean Code
As embedded systems developers, many of us are veterans of multiple programming courses. In college, we received instruction on a vast assortment of different algorithms and data structures. Most of us were also taught the semantics of at least one high-level programming language.
Saving space with Pointer-less C
This unusual and creative approach to standard C programming can save space and time in your design without losing C's efficiency. A clever piece for all embedded systems programmers. In C and C++ programming, pointers are used very frequently. Indeed, pointers and their applications are one of the most important features in C/C++ because they bring great efficiency, flexibility, and utility to the language.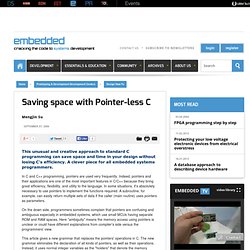 Epigenetics, DNA: How You Can Change Your Genes, Destiny
Embedded Design Center
The Indispensible Ideas of 2009
The MathWorks India - Free DM MATLAB Interactive Technical Kit O
I/O Modules: Product research and advice from Control Engineerin
We're sorry.
s Must-Reads Library Set
10 Must-Read Articles from HBR
by Clayton M.
How to Get the Right Work Done
by Gina Trapani , Peter Bregman , William Oncken Jr. , Donald L.
s Must-Reads on Managing Yourself
by Peter F. Drucker , William Oncken Jr. , Donald L. Wass , Stephen R.