Hardware
LCD / LCD PANEL / LCD Module / LCD Display.
India | Formerly Farnell | Electronic Components Distributor
Systems Design - Embedded.com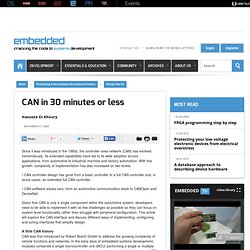 Since it was introduced in the 1980s, the controller-area network (CAN) has evolved tremendously. Its extended capabilities have led to its wide adoption across applications, from automotive to industrial machine and factory automation. With this growth, complexity of implementation has also increased on two levels: • CAN controller design has gone from a basic controller to a full CAN controller and, in some cases, an extended full CAN controller. • CAN software stacks vary, from an automotive communication stack to CANOpen and DeviceNet. Given that CAN is only a single component within the automotive system, developers need to be able to implement it with as few challenges as possible so they can focus on system-level functionality rather than struggle with peripheral configuration.