Survey Design
Survey Question Type Impact on Survey Analysis. How Question Format Affects Survey Analysis When your create a survey questionnaire, a critical questionnaire design issue is how you are going to pose the survey questions to the respondent.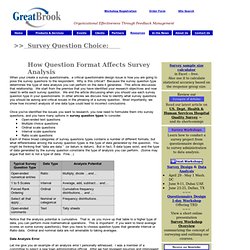 Why is this critical? Because the survey question type determines the type of data analysis you can perform on the data it generates. Faculty.washington.edu/janegf/DsgnSrvyQues.pdf. Sample Survey Question Formats. Writing Guide: Survey Research. Writing@CSU Guide Surveys represent one of the most common types of quantitative, social science research.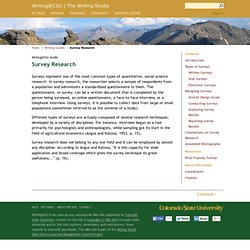 In survey research, the researcher selects a sample of respondents from a population and administers a standardized questionnaire to them. The questionnaire, or survey, can be a written document that is completed by the person being surveyed, an online questionnaire, a face-to-face interview, or a telephone interview. Using surveys, it is possible to collect data from large or small populations (sometimes referred to as the universe of a study).
Www.zoomerang.com/resources/DS_SurveyDesign_Chklist.pdf. Surveys: Institutional Assessment and Studies, University of Virginia. Survey Services IAS can provide direct support (question writing, web programming, administration and analysis) for a limited number of surveys from University offices and departments.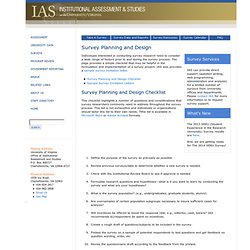 Please contact IAS for more information or to request survey support. What's New The 2013 SERU (Student Experience in the Research University) Survey results are here. And, we are getting ready for The 2014 SERU Survey! Survey Design - How to Begin your Survey Design Project - Creative Research Systems. Knowing what the client wants is the key factor to success in any type of business.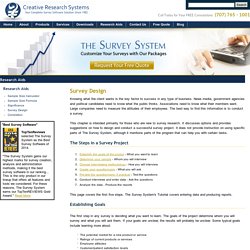 News media, government agencies and political candidates need to know what the public thinks. Associations need to know what their members want. Large companies need to measure the attitudes of their employees. The best way to find this information is to conduct a survey. This chapter is intended primarily for those who are new to survey research. Survey Tips: How to write a good survey questionnaire. Write a short questionnaire Above all, your questionnaire should be as short as possible.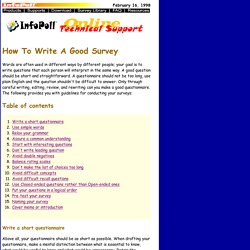 When drafting your questionnaire, make a mental distinction between what is essential to know, what would be useful to know and what would be unnecessary. Retain the former, keep the useful to a minimum and discard the rest. If the question is not important enough to include in your report, it probably should be eliminated. Back to table of contents.
Designing a Survey. Please ensure you have JavaScript enabled in your browser.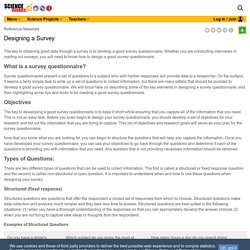 If you leave JavaScript disabled, you will only access a portion of the content we are providing. <a href="/science-fair-projects/javascript_help.php">Here's how. </a> The key to obtaining good data through a survey is to develop a good survey questionnaire. Whether you are conducting interviews or mailing out surveys, you will need to know how to design a good survey questionnaire. Www.keene.edu/crc/forms/designingsurveysthatcount.pdf.
---