Candles and crayons
Tutorial: Homemade Sidewalk Chalk | oh my! handmade goodness. By Michelle Vackar, Modern Handmade Child One of our favorite outside activities at our home is drawing with chalk on the driveway.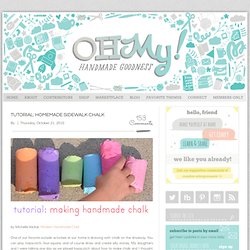 You can play hopscotch, four-square, and of course draw and create silly stories. My daughters and I were talking one day as we played hopscotch about how to make chalk and I thought to myself, let's try it! It ended up being quite a lot of fun. Crayon Hearts - Martha Stewart Crafts - StumbleUpon. Soap Making Instructions | Soap Making Recipes and Tutorials | Teach Soap - StumbleUpon. (Image) - starbugs soup. Homemade Holidays: Crock Pot Candles. Growing up in my house, we always made our own holiday gifts.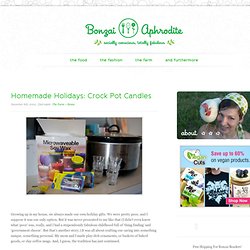 We were pretty poor, and I suppose it was our only option. But it was never presented to me like that (I didn't even know what 'poor' was, really, and I had a stupendously fabulous childhood full of 'thing finding' and 'government cheese'.
---