Body
How to Get Rid of Dark Pores on the Legs. Actress Raven-Symone has this problem.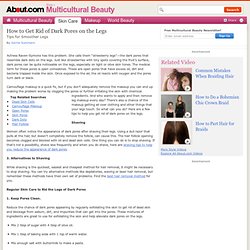 She calls them "strawberry legs"—the dark pores that resemble dark dots on the legs. Just like strawberries with tiny spots covering the fruit's surface, dark pores can be quite noticeable on the legs, especially on light or olive skin tones. Lemon-Salt Body Scrub. It's time to slough off dry-winter skin with an invigorating homemade body scrub!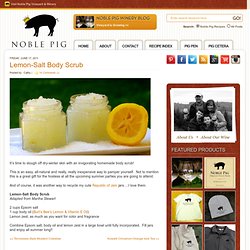 This is an easy, all-natural and really, really inexpensive way to pamper yourself. Not to mention this is a great gift for the hostess at all the upcoming summer parties you are going to attend. And of course, it was another way to recycle my cute Republic of Jam jars….I love them. Lemon-Salt Body ScrubAdapted from Martha Stewart 2 cups Epsom salt 1 cup body oil (Burt's Bee's Lemon & Vitamin E Oil) Lemon zest, as much as you want for color and fragrance. Homemade Body Wash - Keep Scary Out Of Your&Shower - To Be A Farmer - Little Seed Farm - StumbleUpon. Our Homemade Lavender-Lemongrass Body WashWhat do you put on your body every day?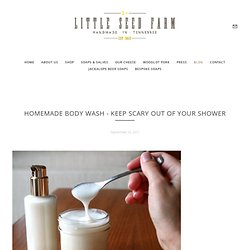 By the time I've finished my morning routine I've used shampoo, conditioner, body wash, face wash, toner, moisturizer and sunscreen for my face, and lotion for my body. Somehow, it took me close to a year before I started wondering what the heck was actually in those bottles in my shower. Isn't it odd that we've become so conscious of what we put inside our bodies, and somehow managed not to give any thought about what we were putting on them? Dorm Room Spa: 3 Easy DIY Beauty Recipes to Try - College Fashion. Photo Credit It's that taxing in-between time of the semester again – spring break is over, papers and projects are coming due, and finals are looming ahead.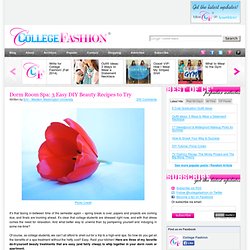 It's clear that college students are stressed right now, and with that stress comes the need for relaxation. And what better way to unwind than by pampering yourself and indulging in some me-time? Of course, as college students, we can't all afford to shell out for a trip to a high-end spa. 7 Foods for Healthy Skin - iVillage. Discovery Health &Uses for Baking Soda: Guidelines for Health and Beauty& Baking soda was one of the few products many years ago on the market for cleaning your teeth or settling an upset stomach.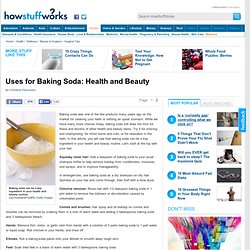 While we have many more choices today, baking soda still does the trick for these and dozens of other health and beauty tasks. Try it for shaving and shampooing, for minor burns and cuts, or for relaxation in the bath. In this article, you will see that baking soda can be a key ingredient in your health and beauty routine. Let's start at the top with your hair. Squeaky clean hair: Add a teaspoon of baking soda to your usual shampoo bottle to help remove buildup from conditioners, mousses, and sprays, and to improve manageability. Homemade Beauty Recipes. Looking to add a new addition to your beauty and skincare arsenal?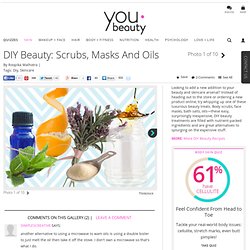 Instead of heading out to the store or ordering a new product online, try whipping up one of these luxurious beauty treats. Body scrubs, face masks, bath salts, oils—these easy, surprisingly inexpensive, DIY beauty treatments are filled with nutrient-packed ingredients and are great alternatives to splurging on the expensive stuff. 7 Foods for Healthy Skin - iVillage. 22 Beautiful Uses For Vaseline | beautifulwithbrains.com. Vaseline, a.k.a. petroleum jelly is a beauty staple that every girl should have in their makeup bag.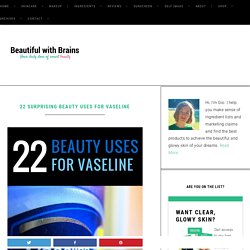 There are a zillions of uses for it and it is so inexpensive! Here's some beauty related tricks you can do with vaseline: 1. Lip balm: moisturizes and soothes chapped lips but it doesn't taste good. 50 Uses for Vaseline | Christina Loves... This is one of my favorite products from Vaseline, their Vitalizing Gel Body Oil.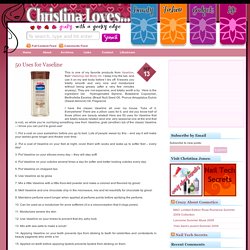 I keep it by the tub, and use it on my wet body before I dry off. It leaves you totally smooth and very nice and moisturized without being greasy (after a very few minutes anyway). They are not expensive, and totally worth a try. Here is the ingredient list: Hydrogenated Styrene, Butadiene Copolymer, Bertholletia Excelsa (Brazil Nut) Seed Oil, Prunus Amygdalus Dulcis (Sweet Almond) Oil, Fragrance I have the classic Vaseline all over my house. DIY - MAKE YOUR OWN WAX FOR HAIR REMOVAL - Fashion + Beauty on Shine. I was chatting with someone on my flight back from my vacation.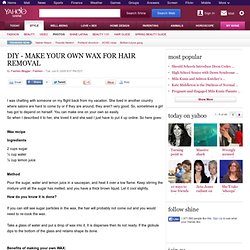 She lived in another country where salons are hard to come by or if they are around, they aren't very good. So, sometimes a girl has got to depend on herself. You can make one on your own so easily. So when I described it to her, she loved it and she said I just have to put it up online. Broke-Ass Student & Blog Archive & Beauty On A Budget - Some Of My Favorite Beauty Secrets. Lookin' like a million dollars, even on a broke-ass budget For me, beauty has always been a special type of spiritual elevation – a powerful radiation from the inside out that shines through in the joy we feel in our hearts and by unlocking the passion in our souls.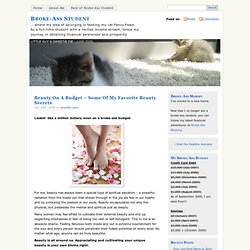 Beauty encapsulates not only the physical, but possesses the mental and spiritual just as deeply. Many women may feel afraid to cultivate their external beauty and end up neglecting themselves in fear of being too vain or self indulgent. This to me is an absolute shame. Feeling fabulous both inside and out is extreme nourishment for the soul and every person should penetrate their fullest potential on every level. How to Detox with Apple Cider Vinegar. Apple cider vinegar has been used as a medical remedy for thousands of years. Its acids bind to toxins in the body and help detoxify the liver. Its health benefits range from treating acne and eczema to helping with weight loss and regulating cholesterol levels.
It's a powerhouse of minerals, such as potassium, magnesium, calcium, iron and phosphorous, to name a few. Drinking this simple apple cider vinegar detox recipe before meals will aid digestion and give the immune system a boost. A Millionish Uncommon (and Not So Uncommon) Uses for Coconut Oil. Heart-healthy, heart-warming coconut oil. You're a nut! You're crazy in the coconut! Seven Surprising Uses for Baking Soda - Health - GOOD - StumbleUpon. Let us be clear: Baking soda is not going to permanently cure your acne or turn back the cruel hand of time. But if you're looking to detoxify your body and your household, this multitasking ingredient will make your life easier (and more beautiful) without denting your coffers. Mom may have taught you that baking soda will make your bread rise and your fridge smell better, but did you know of its many cosmetic applications?
Even the ancient Egyptians—and what beauty post would be complete without them? —used a compound similar to baking soda as soap. The kitchen spa | MNN - Mother Nature Network - StumbleUpon. Help your skin survive unpredictable weather with these two essential steps: exfoliation and moisturization. Skin-cell buildup leads to dryness, poor circulation and blemishes. Exfoliation eliminates these dead cells, revealing fresh skin that is better able to absorb moisture. And guys, take note: While men's skin tends to be oilier than women's, men may be more prone to epidermal dehydration.
---