Apple
Cocoa Dev Central: Learn Objective-C. Objective-C Objective-C is the primary language used to write Mac software.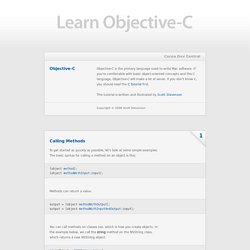 If you're comfortable with basic object-oriented concepts and the C language, Objective-C will make a lot of sense. If you don't know C, you should read the C Tutorial first. Beginning Objective-C Programming. A little over ten years ago, I had just started learning object-oriented programming after spending a few years as a mental health counselor (yes, really!).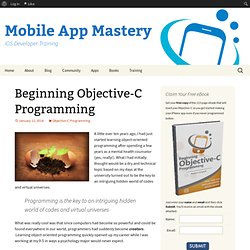 What I had initially thought would be a dry and technical topic based on my days at the university turned out to be the key to an intriguing hidden world of codes and virtual universes. Programming is the key to an intriguing hidden world of codes and virtual universes. Objective-C 2.0, Le langage de programmation iPhone et Cocoa sur Mac Os X. La programmation iPhone / Tutoriel n°1 : Pour commencer ... En guise d'introduction de notre série de tutoriels, j'ai la lourde tâche de te donner l'envie et les outils qui feront de toi un développeur iPhone de génie, un Mac Addict.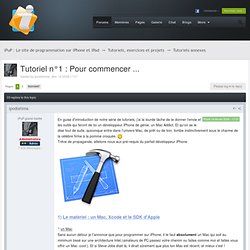 Et qu'on se le dise tout de suite, quiconque entre dans l'univers Mac, de prêt ou de loin, tombe instinctivement sous le charme de la célèbre firme à la pomme croquée. Trêve de propagande, attelons nous aux pré-requis du parfait développeur iPhone. 1) Le matériel : un Mac, Xcode et le SDK d'Apple ° un MacSans aucun détour je t'annonce que pour programmer sur iPhone, il te faut absolument un Mac qui soit au minimum basé sur une architecture Intel. (amateurs de PC passez votre chemin ou faites comme moi et faites vous offrir un Mac :cool:). La programmation iPhone / Un peu de lecture... Pour commencer, vous pouvez visiter - le site développeur iPhone d'Apple.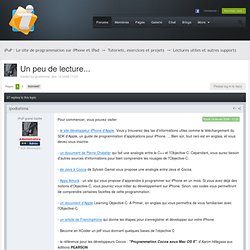 Vous y trouverez des tas d'informations utiles comme le téléchargement du SDK d'Apple, un guide de programmation d'applications pour iPhone, ... Bien sûr, tout ceci est en anglais, et vous devez vous inscrire. - un document de Pierre Chatelier qui fait une analogie entre le C++ et l'Objective-C. Cependant, vous aurez besoin d'autres sources d'informations pour bien comprendre les rouages de l'Objective-C.
Les classes. Programmez en Objective-C ! Les meilleurs cours, tutoriels concernant le Mac, Mac OS X, Cocoa, Objective-C. Xcode 4 User Guide: Writing and Editing Source Code. Develop iOS and Mac apps with Xcode, Apple's integrated development environment (IDE).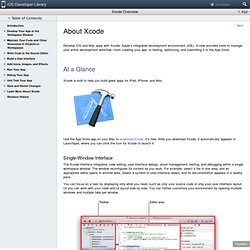 Xcode provides tools to manage your entire development workflow—from creating your app, to testing, optimizing, and submitting it to the App Store. At a Glance Xcode is built to help you build great apps for iPad, iPhone, and Mac. Use the App Store app on your Mac to download Xcode. It's free.
---