Cub Scouts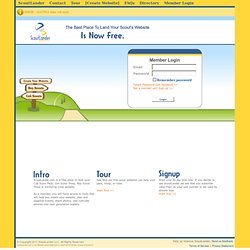 Cub Scout Pack 688 (Atlanta, Georgia) Homepage
They were planted in spring, along cool hillsides where northern winds lingered long after they had ceded the South to warmer temperatures. They first appeared as flowers on long, leavy vines that curled toward the sun. By the time Georgia panted through a weary succession of 90-degree days, Cucurbita pepo, each the size of a golf ball, rested atop the Michigan soil.
ScoutTrack.com
Cub Scout Leader Portal - MeritBadgeDotOrg
Den Leader Resources
Den meeting plans are developed around a Scouting program year that is presumed to begin in early September and continue through May, at which time Cub Scouts would become involved in summertime Scouting activities. Two types of den meeting plans are offered for the den leader's use: Numbered plans: Programming for the program/school year (September through May), including rank advancement requirements for dens meeting twice a month Lettered or supplemental plans: Additional programming for dens meeting year-round or more than twice per month
Bear Cub Scout Den Meeting Plans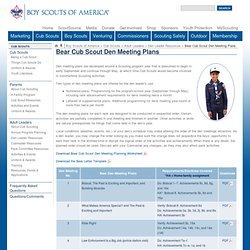 Welcome to Webelos! For Webelos Scouts and their leaders, this year and the next are filled with excitement, growth, and challenge.
Webelos Den Meeting Plans