Apache Software Fundation
Apache ZooKeeper is an effort to develop and maintain an open-source server which enables highly reliable distributed coordination. What is ZooKeeper? ZooKeeper is a centralized service for maintaining configuration information, naming, providing distributed synchronization, and providing group services. All of these kinds of services are used in some form or another by distributed applications. Each time they are implemented there is a lot of work that goes into fixing the bugs and race conditions that are inevitable. Because of the difficulty of implementing these kinds of services, applications initially usually skimp on them ,which make them brittle in the presence of change and difficult to manage.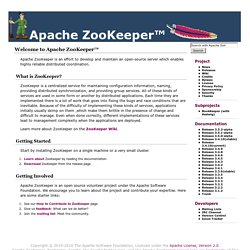 Apache OpenJPA -- Index
What Is Apache Hadoop? The Apache™ Hadoop® project develops open-source software for reliable, scalable, distributed computing. The Apache Hadoop software library is a framework that allows for the distributed processing of large data sets across clusters of computers using simple programming models. It is designed to scale up from single servers to thousands of machines, each offering local computation and storage. Rather than rely on hardware to deliver high-availability, the library itself is designed to detect and handle failures at the application layer, so delivering a highly-available service on top of a cluster of computers, each of which may be prone to failures.
Font size: What is Apache Derby? Apache Derby, an Apache DB subproject, is an open source relational database implemented entirely in Java and available under the Apache License, Version 2.0. Some key advantages include: Derby has a small footprint -- about 2.6 megabytes for the base engine and embedded JDBC driver. Derby is based on the Java, JDBC, and SQL standards.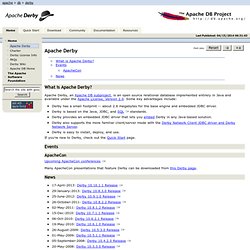 Derby
The Camel community announces the immediate availability of the new patch release Camel 2.11.4. Coming some 4 weeks after the 2.11.3 release, this 2.11.4 path release contains a total of 26 fixes applied in the past month by the community on the Camel 2.11.x maintenance branch. The artifacts are published and ready for you to download either from the Apache mirrors or from the Central Maven repository.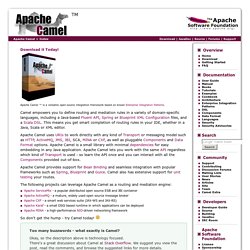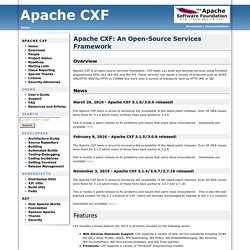 Overview Apache CXF is an open source services framework. CXF helps you build and develop services using frontend programming APIs, like JAX-WS and JAX-RS. These services can speak a variety of protocols such as SOAP, XML/HTTP, RESTful HTTP, or CORBA and work over a variety of transports such as HTTP, JMS or JBI. News *December 3, 2013 - Apache CXF 3.0.0-milestone1 released!
Welcome to Apache ServiceMix!
News ServiceMix 4.5.3 released The ServiceMix team is pleased to announce the availability of ServiceMix 4.5.3.This is a minor release that fixes a few bugs and picks up new versions of Apache Camel and Apache CXF. For more information, please see the release notes ServiceMix 4.5.2 released The ServiceMix team is pleased to announce the availability of ServiceMix 4.5.2.This is a minor release that fixes a few bugs and picks up new versions of Apache Camel, Apache CXF and Apache Karaf.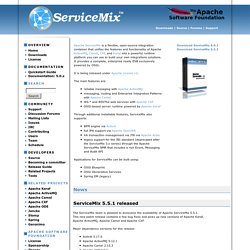 Apache Aries - Index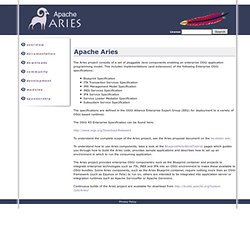 The Aries project consists of a set of pluggable Java components enabling an enterprise OSGi application programming model. This includes implementations (and extensions) of the following Enterprise OSGi specifications: Blueprint SpecificationJTA Transaction Services SpecificationJMX Management Model SpecificationJNDI Services SpecificationJPA Service SpecificationService Loader Mediator SpecificationSubsystem Service Specification The specifications are defined in the OSGi Alliance Enterprise Expert Group (EEG) for deployment to a variety of OSGi based runtimes. The OSGi R5 Enterprise Specification can be found here: http://www.osgi.org/Download/Release5
Apache Ant™ Apache Ant is a Java library and command-line tool whose mission is to drive processes described in build files as targets and extension points dependent upon each other. The main known usage of Ant is the build of Java applications.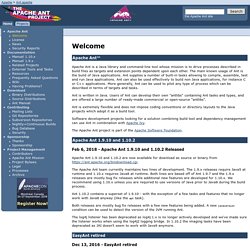 Apache Tomcat Apache Tomcat is an open source software implementation of the Java Servlet and JavaServer Pages technologies. The Java Servlet and JavaServer Pages specifications are developed under the Java Community Process. Apache Tomcat is developed in an open and participatory environment and released under the Apache License version 2.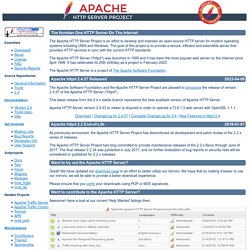 The Apache HTTP Server Project is an effort to develop and maintain an open-source HTTP server for modern operating systems including UNIX and Windows NT. The goal of this project is to provide a secure, efficient and extensible server that provides HTTP services in sync with the current HTTP standards. Apache httpd has been the most popular web server on the Internet since April 1996, and celebrated its 17th birthday as a project this February.
If you would like to keep up with news and announcements from the foundation and all its projects, you can subscribe to the Apache Announcements List or follow the Foundation Blog. Highest performing "NoSQL" distributed Big Data database in use at hundreds of organizations including Adobe, CERN, Comcast, Disney, eBay, GE, GitHub, GoDaddy, HP, Hulu, IBM, Instagram, Intuit, Netflix, Plaxo, Polyvore, Sony, and The Weather Channel Forest Hill, MD –08 April 2014– The Apache Software Foundation (ASF), the all-volunteer developers, stewards,... Open Source collaborative software development platform in use at DARPA, DLR German Aerospace Center, Open Source Projects Europe, and SourceForge, among others, to manage source code repositories, bug reports, discussions, wiki pages, blogs and more Forest Hill, MD –01 April 2014– The Apache Software Foundation (ASF), the all-volunteer developers, stewards, and...
Apache Maven is a software project management and comprehension tool. Based on the concept of a project object model (POM), Maven can manage a project's build, reporting and documentation from a central piece of information. If you think that Maven could help your project, you can find out more information about in the "About Maven" section of the navigation. This includes an in-depth description of what Maven is, a list of some of its main features, and a set of frequently asked questions about what Maven is. Learning about Maven This site is separated into the following sections, depending on how you'd like to use Maven:
"Enterprise-class centralized version control for the masses" Welcome to subversion.apache.org, the online home of the Apache Subversion™ software project. Subversion is an open source version control system. Founded in 2000 by CollabNet, Inc., the Subversion project and software have seen incredible success over the past decade. Subversion has enjoyed and continues to enjoy widespread adoption in both the open source arena and the corporate world.
A Database for the Web CouchDB is a database that completely embraces the web. Store your data with JSON documents. Access your documents and query your indexes with your web browser, via HTTP. Index, combine, and transform your documents with JavaScript.