Apache Software Fundation
Apache JMeter - Apache JMeter™
Search
Semantic. OSGI. Apache ZooKeeper - Home. Apache OpenJPA -- Index. Welcome to Apache™ Hadoop™! Derby. Font size: What is Apache Derby?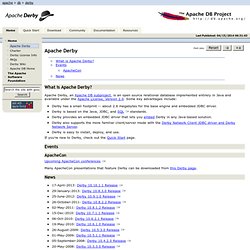 Apache Derby, an Apache DB subproject, is an open source relational database implemented entirely in Java and available under the Apache License, Version 2.0. Some key advantages include: Derby has a small footprint -- about 2.6 megabytes for the base engine and embedded JDBC driver. Derby is based on the Java, JDBC, and SQL standards. Index. Apache CXF -- Index.
Welcome to Apache ServiceMix! Apache Aries - Index. Apache Ant - Welcome. Apache ActiveMQ ™ -- Index. Apache Tomcat - Welcome! Welcome! - The Apache HTTP Server Project. Welcome to The Apache Software Foundation! Welcome to Apache Maven. Apache Subversion. Apache CouchDB: The Apache CouchDB Project.
---