Tarot
Free Tarot Reading. Your Free Tarot Reading Tarot readings provide guidance as to how we can achieve or manifest our goals.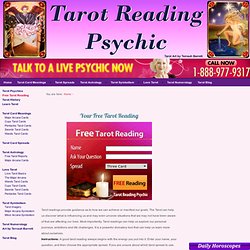 The Tarot can help us discover what is influencing us and may even uncover situations that we may not have been aware of that are affecting our lives. Most importantly, Tarot readings can help us explore our personal journeys, ambitions and life challenges. It is a powerful divinatory tool that can help us learn more about ourselves. Instructions: A good tarot reading always begins with the energy you put into it. Worldwide. Tarot Reading | Free Tarot | Horoscopes | Psychic Reading. Free Tarot Readings, Numerology, Runes, I Ching | Learn Tarot Cards - iFate.com.
Free Tarot Card Readings. FREE Tarot Readings.
---