Tarot
Free Tarot Reading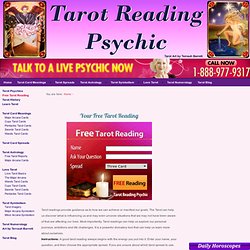 Your Free Tarot Reading Tarot readings provide guidance as to how we can achieve or manifest our goals. The Tarot can help us discover what is influencing us and may even uncover situations that we may not have been aware of that are affecting our lives. Most importantly, Tarot readings can help us explore our personal journeys, ambitions and life challenges. It is a powerful divinatory tool that can help us learn more about ourselves. Instructions: A good tarot reading always begins with the energy you put into it.
Worldwide
Tarot Reading | Free Tarot | Horoscopes | Psychic Reading
This is an awesome card to look at. There is a picture of a tower and in the background is a storm and lightening. There are dark clouds and the sea leaps up around the building. There are people leaping from the windows to escape the blazing inferno.
"iFate is the best site for free tarot readings I've ever seen. Period" -- Reed Pauling New Love Tarot! Got questions about love?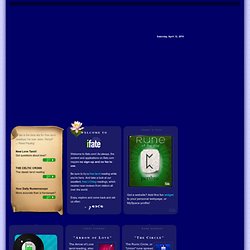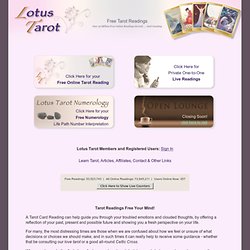 Free Tarot Card Readings
Tarot Readings Free Your Mind! A Tarot Card Reading can help guide you through your troubled emotions and clouded thoughts, by offering a reflection of your past, present and possible future and showing you a fresh perspective on your life. For many, the most distressing times are those when we are confused about how we feel or unsure of what decisions or choices we should make, and in such times it can really help to receive some guidance - whether that be consulting our love tarot or a good all-round Celtic Cross. When you have clarity of mind you feel more relaxed, and decisions and choices can be made more easily. Consulting the cards may help you to get in touch with your intuition, your best guide when it comes to making those difficult choices and decisions.