Dfettet
Doris Fettet
High School Foreign Languages teacher(French and Spanish)
Video Clip Library | Which Way Home
m.hbo
Teachers TV video collection - Primary languages - Lesson Starters - French
Last Updated: 31 August, 2011 Section: Resources Teachers TV video collections index See all Teachers TV videos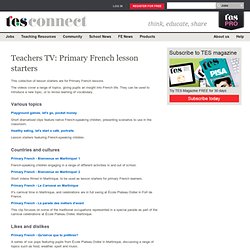 Listening to a language while reading along with the transcript is a great way to improve your comprehension as well as your pronunciation. The following mp3s and mp4s were created by native speakers of French and they are free for teachers and students to download. All of them are spontaneous speech - nothing was scripted or rehearsed, and some were even recorded without the speaker's prior knowledge for an eavesdropping effect. For the resources that have transcripts available, I've created individual pages so that you can now listen and read along or do a cloze (fill-in-the-blank) exercise if you prefer to work online.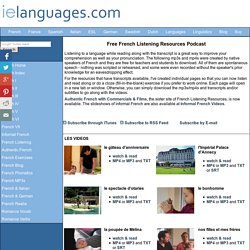 index
pro5: direct object pronouns
objectcomplements
Language exercises
ver1: -er verbs (regular) present tense
ver2: -er verbs (stem changing) present tense
¡Hola! Me (llamar) Celia Castillo.
Spanish Language & Culture | Present Tense | Regular -AR Verbs