Stores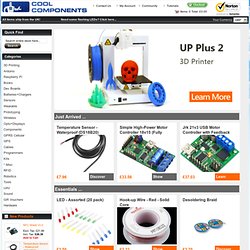 The Arduino Yún is the latest board from Arduino and it's a doozy! It combines the ATmega32U4 (as used in the Arduino Leonardo) with the Atheros AR9331 System on a Chip (SoC). The Atheros runs a Linux distribution, Lininio, and is connected to the USB host, microSD card slot and the WiFi chip.
Freeduino.eu voorraad verkoop - Producten -
FLORIS.CC
World Maker Faire Heading for World Maker Faire! We don't ship orders placed after 27 September until 3 October! Want your order to ship direct? order before or on 27 September!
Quadcopter fever has blown through SparkFun. I'm not sure where it started, but suddenly, it seems like everybody is flying around a cheap little quadcopter. The most popular model around here is the Estes Proto-X, a mere snip at $35-45US. It's small size makes it nice for goofing off around the office, but it definitely leaves something to be desired in the hacking arena. It can't carry much weight, of course.