Stores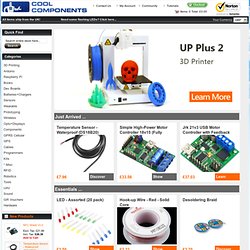 The Arduino Yún is the latest board from Arduino and it's a doozy! It combines the ATmega32U4 (as used in the Arduino Leonardo) with the Atheros AR9331 System on a Chip (SoC). The Atheros runs a Linux distribution, Lininio, and is connected to the USB host, microSD card slot and the WiFi chip.
Freeduino.eu voorraad verkoop - Producten -
FLORIS.CC
World Maker Faire Heading for World Maker Faire! We don't ship orders placed after 27 September until 3 October! Want your order to ship direct? order before or on 27 September!
Products, products, and more products. That's what Fridays are all about here at SparkFun. We have a few new things this week. Check out the video and hear our engineer Shawn explain the new CC3000 shield and breakout board. I'm not kidding here: $50k for the first person to figure out how to harvest Shawn's energy. I think the secret might be in his bow-tie.